Ad blocker interference detected!
Wikia is a free-to-use site that makes money from advertising. We have a modified experience for viewers using ad blockers

Wikia is not accessible if you've made further modifications. Remove the custom ad blocker rule(s) and the page will load as expected.
 
 
 
"We must strive to be more than what we are. It does not matter that we
will never reach our ultimate goal. The effort yields its own rewards."
-LtCmdr. Data
USS Endeavour
NCC-1895-A


Galaxy Class
Mission Information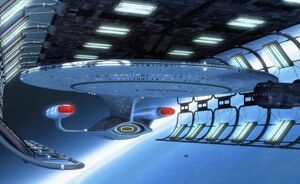 The
USS Endeavour (NCC-1895-A)
is a
Galaxy Class
starship. Following the
Gorn Conflict of 2383
, Starfleet commissioned the
USS Endeavour
(NCC-1985-A), and assigned her to the
Ithassa Region
theater of operations under the jurisdiction of the United Federation of Planets. Under the Command of Captain Geoffrey Macarius, she patrolled the
Gorn
-Federation border in the
Ithassa Region
as a constant reminder to the
Gorn
that the Federation is ever vigilant. The
Endeavour
routinely reports to
Deep Space 17
for servicing and refit.