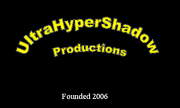 UltraHyperShadow Productions is the production "company" of UltraHyperShadow, who also goes by the GameFAQs alias BlackDoomShadow. He uses this brand on all of his major productions, such as comics and videos.
Works by UltraHyperShadow Productions
As UHS Productions was not "established" until T3H Metroid Galaxy's publication in 2006, the HHWAE was retroactively added to the list of productions.