Underworld (2003) at Wikia
---
[
]
Welcome to the Underworld (2003) mini wiki at Scratchpad!
You can use the box below to create new pages for this mini-wiki.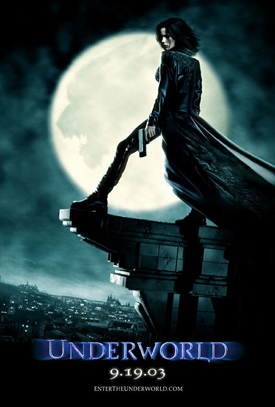 Underworld is a 2003 action horror film directed by Len Wiseman about the secret history of Vampires and Lycans (an abbreviated form of lycanthrope). It is the first installment in the Underworld series. The main plot revolves around Selene (Kate Beckinsale), a vampire Death Dealer hunting Lycans. She finds herself attracted to a human, Michael Corvin (Scott Speedman), who is being targeted by the Lycans. After Michael is bitten by a Lycan, Selene must decide whether to do her duty and kill him or go against her clan and save him.
While reviewers generally received the film negatively, criticizing the overacting and lack of character development, a smaller number of reviewers praised elements such as the film's stylish Gothic visuals, the "icy English composure" in Kate Beckinsale's performance, and the extensively worked-out vampire–werewolf mythology that serves as the film's backstory.
Parodies

 WARNING: You may add parodies. But, do NOT delete any. Complete parodies list
References
See also