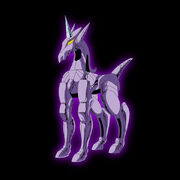 is a fictional character from the manga
Saint Seiya
,authored by Japanese mangaka
Masami Kurumada
, and later adapted to anime. Jabu is one of the Bronze Saints which protect
Athena
.
Jabu's only known attack. He used this technique a few times during the anime series, most notably against Andromeda Shun, with no success. It is presented as nothing more than a simple and physical kick attack, which he developed during his training.
In the manga, however, it is a more detailed and powerful attack, at least on the level of the early attacks of the main 5 Bronze Saints (Seiya, Shiryu, etc). For some reason, the animators chose not to give this attack much detail, or even use it at all in the animated series. For example, while it was used successfully against 3 unknown Specters in Hades Saga in the manga, the entire scene was ignored when the Hades Saga was animated.
It's been suggested that Unicorn cloth's horn is a powerful weapon, but it never shown that Jabu actually uses it. In the manga he fought
Lionet Ban
in the Galaxian Wars Tournament. In the anime adaptation, this fight occurs as it did in the manga, slightly longer, it looks as if Jabu used the horn of his headpiece to attack Ban, but it's likely that it was only used to make the battle seem more authentic to the audience.Jabu is one of the 100 orphans that were sent by Mitsumasa Kido all over the world to train and bring back the saint cloth in order to protect his foster granddaughter, Saori. When Jabu was just a kid, he was very obedient to Saori Kido, even if she wanted him to become her horse. He even offered himself after Seiya blatantly refused to do so. (In the manga, Jabu is in fact Kido's son, as well as Seiya and the other 98 orphans). He went to train at Oran, Algeria where he managed to get the Unicorn Bronze Cloth after six years.
Ad blocker interference detected!
Wikia is a free-to-use site that makes money from advertising. We have a modified experience for viewers using ad blockers

Wikia is not accessible if you've made further modifications. Remove the custom ad blocker rule(s) and the page will load as expected.