Jimmyandfriends's movie-spoofs of "Up"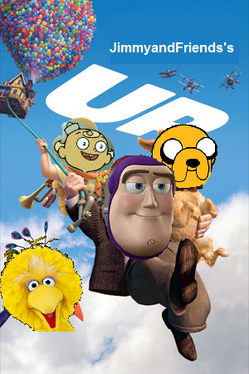 Cast:
Buzz Lightyear (Toy Story) as Carl Fredricksen
Jessie (Toy Story 2) as Ellie Fredricksen
Flapjack (The Marvelous Misadventures of Flapjack) as Russell
Jake (Adventure Time) as Dug
Big Bird (Sesame Street) as Kevin
Lotso (Toy Story 3) as Charles Muntz
Chief (The Fox and the Hound) and Napoleon and Lafayette (The Aristocats) as Alpha, Beta and Gamma
Larry the Cucumber (VeggieTales) as Construction Foreman Tom
Ad blocker interference detected!
Wikia is a free-to-use site that makes money from advertising. We have a modified experience for viewers using ad blockers

Wikia is not accessible if you've made further modifications. Remove the custom ad blocker rule(s) and the page will load as expected.