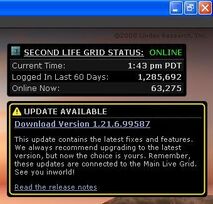 When you start Second Life your login screen may tell you that an update is available. A second window will appear at the upper right hand corner (see picture).
New Releases. When new versions of the Viewer are released, you'll see the announcement on the SL Grid Status Reports, and Release notes can be found in the Release Notes section of the Wiki. In most cases, a link will also be provided to a forum discussion thread where comments are read and responded over several days. The forum is used for this because a discussion there can continue for several days, allowing Residents from a variety of time zones to participate.
See also
This viewer upgrade is OPTIONAL. You may still log in to Second Life with your current viewer.
This Security Update 2008-10-06 is required to continue to log-in to Second Life.
Ad blocker interference detected!
Wikia is a free-to-use site that makes money from advertising. We have a modified experience for viewers using ad blockers

Wikia is not accessible if you've made further modifications. Remove the custom ad blocker rule(s) and the page will load as expected.