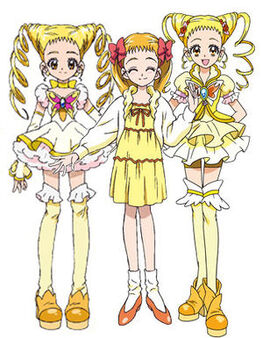 Urara Kasugano (Melanie Love in English) is the youngest Cure of the group in Yes! Pretty Cure 5 and its sequel. Her alter ego is the Cure of Effervescence, Cure Lemonade. She is voiced by Maryke Hendrikse in English.
Counterparts

 WARNING: You may add appropriate counterparts. But, do NOT delete any.
Pearl (TUGS)
Rosie (Thomas)
Cream the Rabbit (Sonic the Hedgehog)
Melvin, Starfire or Kole (Teen Titans)
Mabel Pines (Gravity Falls)
Fluffles (Wallace and Gromit)
Meg Griffin (Family Guy)
Shareena Wickett (Detention)
Lor McQuarrie (The Weekenders)
Connie (Steven Universe)
Elmyra Duff (Tiny Toon Adventures)
Iris (Ruby Gloom)
Yo (Fanboy and Chum Chum)
Annie Sue Pig (The Muppet Show)
Lisa Simpson (The Simpsons)
Bebe Stevens (South Park)
Numbuh 3 (Codename: Kids Next Door)
Star Butterfly (Star vs. the Forces of Evil)
Jenny Wakeman (My Life as a Teenage Robot)
Nazz (Ed, Edd 'n' Eddy)
Abby Cadabby (Sesame Street)
June (Kablam!)
Beth (Total Drama)
D.W. Read (Arthur)
Prissy Polly (Horrid Henry)
Dot Warner (Animaniacs)
Symphony Angel (Captain Scarlet and The Mysterons)
Hermione Granger (Harry Potter)
Emma Wilder (The Last Mimzy (2007))
Mandy (The Grim Adventures of Billy & Mandy)
Cristina (The Loud House)
Penelope P. Plans (Mighty Magiswords)
Ad blocker interference detected!
Wikia is a free-to-use site that makes money from advertising. We have a modified experience for viewers using ad blockers

Wikia is not accessible if you've made further modifications. Remove the custom ad blocker rule(s) and the page will load as expected.