Hugh Jackman's musical and biographical movie The Greatest Showman comes out on Christmas Day 2017, and they are looking your young and talented actors. However, I've found one person that is entirely perfect for the role. Her name is Brynn Rumfallo, and I'll tell you why I think she's perfect for that role in my opinion.
Number 1.
Brynn Rumfallo is without a doubt a great dancer. If you see her dance moves, you'll understand why she is a great dancer. If she was currently on the cast for The Greatest Showman, I would like her to be a trapeze artist, like Zendaya is going to be, so that way, she will feel encouraged to be a part of Hugh Jackman's The Greatest Showman. Despite her not being a Disney Star, that's okay! She is still great for her role.
Number 2.
They're looking for young kids at least (9-15) years old, she was born on July 1st, 2003. If she was cast on this musical/biographical movie of the P.T. Barnum movie, she will be most likely be more famous and well-considered to be a part of the musical member of Hugh Jackman's The Greatest Showman. In fact, afterwards, she might be more well-remembered and more well-liked due to her incredible dance moves, and her great career.
Number 3.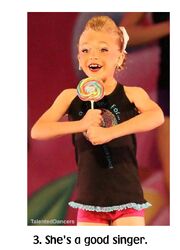 This was her when she was young, but still, she sings like an angel. She also has the most beautiful voice too. And wouldn't it be great if she sing in a movie as well, that's why I'm rooting for her to be the part of the upcoming musical/biographical movie. She will do a great job singing in this movie if she gets the part for the movie, I would love to hear her sing in a musical movie as well. She will even win a Golden Globe awards next year, just imagine her being the part of The Golden Globe awards, and that she wins, that will be very heartwarming.
Number 4.
Seeing her in a movie will be like seeing her on broadway, seeing her being a trapeze artist with opposite Zendaya will be like girl powers, so if she does get the part for the film, you can imagine seeing her on broadway, and her becoming more famous. I really want her to be more memorable and a well-liked person, it will be like a dream come true whenever she gets the part for the movie, and seeing her perform as a trapeze artist.
Number 5. This will be her 1st feature film.
To be honest, I don't think she ever made a movie before, but with this upcoming masterpiece, it will be her very 1st feature film ever to be made. It will be like what happened to Auli'i Cravalho when she did Moana, from being a nobody, to a famous superstar. Moana was a great film, to start with, so I hope that Brynn Rumfallo be a part of The Greatest Showman cast, cause she deserves to be more famous, and more well-liked, even with her very first movie, she will be remembered as an innocent young superstar.
Created By
Johnnymyman96
NOTE
Do not delete/edit it.