Thomas And Friends: Season 3 Review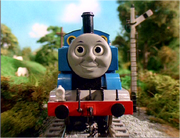 Note: My opinion on this series is my own. It doesn't relate to the Thomas & Friends fanbase in any way.
Episodes
Episode 1: A Scarf For Percy
A bit of a slow way to start off a season. Sort of does remind me of Percy And The Signal with Percy up to his stupid tricks all over again and getting himself into trouble. This episode proves it and it seems that Percy is too obsessed with scarves and has to be so rude to Henry about it. But still it was better then Percy And The Signal, I still feel that it need room for improvement. I can't really state the reason. I just don't know why.
Rating: 8.5/10
Episode 2: Percy's Promise
A much better episodes and one of my favorites from the season. I have every reason to enjoy it and its because Percy's courage and of how the rivalry between him and Harold continues on since Percy Proves A Point and continues on in the season. I also loved the heroic music cue. A very good episode where I see no major faults whatsoever. It was also a pretty good prequel to the second season episode: Percy Takes The Plunge.
Rating: 10/10
Episode 3: Time For Trouble
It was pretty good. A bit of a boring episode. But after not getting any major roles in the second season, old Toby is bought to the forefront with James and I like the rivalry between both of them. Toby gets so much better episodes either to himself or with his friends in the Classic Series and this is quite an example.
Rating: 9/10
Episode 4: Gordon And The Famous Visitor
He's gotten a role with Edward and Henry in A Cow On The Line and he's gotten Wrong Road to himself beside Edward, Bill, Ben and BoCo. Gordon returns for another major role and believe me, if there's one role that I don't like that Gordon gets, it's not this one but Whistles And Sneezes from the first season. He's rude to Henry in that episode but in this one, this is a pretty good rule that he gets. He may have a biased opinion on domeless engines that I don't like and I don't like how he states that they aren't respectable. There was that Whistles And Sneezes-esque moment when Gordon thundered past Edward and Duck beside his theme but that was a cool scene where he arrives at the viaduct and all and loses his dome. Overall, this is a good episode that could've been better if Gordon maybe tried to show City of Truro (the highlight of the episode) how fast he can go and just blow him off thinking that he is better then him.
Rating: 9/10
Episode 5: Donald's Duck
Here was an episode that I liked. I like the title is a parody of the real Disney character name even Donald's attitude towards Duck was a bit too far but I like the whole concept of this episode. 
Rating: 9/10
Episode 6: Thomas Gets Bumped
What a misleading title for Britt Allcroft's first episode. But for the first episode to be written by the show's producer, you probably would've asked yourself what more you could've asked for. It was alright and an alright start to the original storylines that improved later on.
Rating: 8/10
Episode 7: Thomas, Percy And The Dragon
One of my season favorites. An episode that continues on from the second season episode: Percy's Ghostly Trick, this time with the same two engines at the forefront. I did feel sorry for Percy when Thomas scared the crap out of him like that but at least both engines learnt a lesson in being scared at times.
Rating: 10/10
Episode 8: Diesel Does It Again
Diesel's back and he's more devious then ever. Love it. A great continuation from the Duck And Diesel Trilogy and a great expansion of the relationship between Percy and Duck. I did feel sorry for them both but both Carlin and Angelis do a great devious voice for Diesel and all of the above is why I consider this episode to be another season highlight.
Rating: 10/10
Episode 9: Henry's Forest
While getting five roles in the first season with Edward and Gordon and himself and one role in the second season with the same two characters, Henry gets a role to himself in this heartwarming episode that made me feel sorry for all the engines and how sad they were with the sad theme in the background before Toby helps out to mend the forest. Then the tone lit up again and bought a smile to my face.
Rating: 9/10
Episode 10: The Trouble With Mud
Gordon's back in the forefront for the second time this season but this went a bit downhill. The mud on Gordon and James disgusted me a little bit and that's why I don't like the subject of it. Gordon is just stubborn and suddenly changes his attitude when he tries to help James who blows him off. But it was great seeing the two engines working together near the end and Sir Topham Hatt regains his trust in Gordon again.
Rating: 8/10
Episode 11: No Joke For James
James is back in the forefront for the second time and I like this episode much better, with Gordon and James roles from the previous episode being switched between protagonist and deuteragonist. It teaches a great moral in what the consequences from playing tricks on others like how James did and I did feel sorry for him in the shed, especialy with the music in the background. But James did learn his lesson again and I just loved his courage and helpfulness at the end of the episode where Sir Topham Hatts states his usefulness once more. Another season highlight for me.
Rating: 10/10
Episode 12: Thomas, Percy And The Mail Train
Another great Thomas and Percy episode. I love episodes like this that expand upon their friendship. It brings a smile to my face like this episode does and I loved every part of it, how Thomas and Percy teach Harold sense and especially the mail train theme. One of Britt's highlights and one of the season highlights as well.
Rating: 10/10
Episode 13: Trust Thomas
Britt Allcroft wrote this episode as well and I wasn't as impressed as I was with her last two episodes. Gordon and James are just a bunch of jerks to leave Thomas to manage the foolish freight cars like that and they should've known better. I never expected Bertie to be so rude to Thomas and it's surprising how he blames the lack of construction on steam engines when one of his most reliable friends is an engine but this episode has a pretty good crash and at least Bertie learns his lesson in the end.
Rating: 9/10
Episode 14: Mavis
The second half of the series starts with a new character Mavis and that is what I like. She is an interesting character but takes it too far for her introduction. This episode is my least on a few grounds and it's like the attitudes of Toby and Mavis put together. You would've thought that if Toby was such a kind engine that he would kindly tell Mavis to put the cars into the places he wants them to be but no. He just has to tell her impatiently that "freight cars should be where you want them when you want them" causing a rivalty between him and Mavis. But Mavis' attitude is worse and it's always my least favorite episode where the lead charcter, like Thomas from Terrence The Tractor and Percy from Percy And The Signal for example, is rude and inconsiderate. It was an alright episode though and still better then Terrence The Tractor.
Rating: 7.5/10
Episode 15: Toby's Tightrope
The story continues on between Toby and Mavis with Percy trying to convince Mavis what Toby has forgotten aside from her. I feel sorry in this episode but his attitude and patience is improved. I also like how Mavis comes to his rescue which makes up for the quarrel between the two engines. A much better episode.
Rating: 9/10
Episode 16: Edward, Trevor And The Really Useful Party
An Edward episode. Yipee. And it was a pretty good one too. I do wonder what Diesel's purpose in the story was. Probably to make Edward lose hope in helping out Trevor. Maybe that's why Edward turned suddenly so sad. But I don't like Bertie's attitude towards Trevor. At least he learns his lesson in the end for the second time. I do like this episode quite a lot but again, I just don't know why.
Rating: 9/10
Episode 17: James Goes Buzz Buzz
James is back in the lead role for a third time this season and at least he's not rude to Trevor concering his opinion of Edward being too old but he is so rude to BoCo, I just don't get why and he is way too cocky. I get that it just how he is at times. I do like how the bee is animated though to sting James on the nose. It was a good watch but not one of the season' greatest episodes.
Rating: 9/10
Episode 18: All At Sea
Another episode with Percy and Duck at the harbor. I quite like this episode because of its music and how it expands upon Percy and Duck's relationship from last season. I don't have much more to say about it.
Rating: 8.5/10
Episode 19: One Good Turn
Here we go. An entertaining episode with two of my favorite engines from the show in the forefront: Bill and Ben. Those two rascals. Why did HIT use them less? They would've been one of the show's highlights if they were kept in after the classic era ended. I don't just love this episode because of Bill and Ben but also of how Edward and BoCo manage to mend the relationship between the twins and because of George Carlin's voice for the twins.
Rating: 10/10
Episode 20: Tender Engines
Gordon's back in the forefront for the final time this season, this time with Henry bought in the lead on the other half. It's a much better Gordon and Henry episode then Whistles And Sneezes and I'm glad it was adapted, especially with the Flying Scottman's guest appearance and how Henry got more then what he bargained for in the end.
Episode 21: Escape
Donald got an episode to himself beside Duck and now it's Douglas' turn beside Oliver. I really liked this episode as one of the season highlights because Douglas was so brave to save Oliver and Toad from scrap and because  of Oliver's brilliant theme.
Rating: 10/10
Episode 22: Oliver Owns Up
This episode isn't as good. I never expected Oliver to get so puffed up in his boiler but it was nice to hear a new vocabulary term: sagacious. I did feel sorry for Oliver and I'm glad that he came back in good working order.
Rating: 9/10
Episode 23: Bulgy
Another season favorite. Bulgy is introduced and even though I don't like his attitude, I like his villainous appeal and I like how Duck teaches him a lesson in the end.
Rating: 10/10
Episode 24: Heroes
Another Bill and Ben episode. Lovely and another season highlight. Just the attitude I expect from those two. Their reaction towards Gordon was so hilarious and I love how their heroic approach rather then just being cheeky.
Rating: 10/10
Episode 25: Percy, James And The Fruitful Day
Hey, what do you know? An episode with Percy and James in the forefront and a rivalry between them. This is new and more original than a Thomas and Percy episode. The idea of fruit and getting jammed is also quite interesting and original. What I don't like though is how James' boastfulness was taken too far. Also quite predictable of what would happen to James according to Thomas. Other then that, it was an awesome episode with a great moral on respecting other and of comppumance.
Rating: 9.5/10
Episode 26: Thomas And Percy's Mountain Adventure
We come to the season finale, this time about Thanksgiving which is a bit odd since the UK version was based on Christmas. It was still a pretty good episode and it counts as a Christmas episode for me mainly because of the end. The reason why this is a season highlight for me is because I like the original idea of Thomas and Percy working together to save the villagers and settling their rivalry from throughout the season with Harold. I also like the We Wish You A Merry Christmas tune at the end with all the engines whistling.
Rating: 10/10
Overall Opinion
Overall, the third season of Thomas and Friends was not as good as the second season but better then the first. We may not see a lot of new characters but Britt Allcroft and David Mitton have put together some of their best original storylines and placed into half of the season which is pretty cool.
New Characters:
There weren't a lot of new characters in this season. Only Mavis, Oliver, Toad and Bulgy. Neither was there a lot of female characters which was considered a matter of "sexism". While I would've included more female characters in the show, I don't find it much of a big deal at all, not to be sexist to anyone here of course. Back to the new characters, Mavis had great character development throughout the two episodes she starred in with Toby. Oliver and Toad seem like cool characters and it's good to have them adapted in the TV series. Bulgy and his model is another thing which really appealed to me. I quite like having a double-decker bus as part of the show and the return of the character in the seventh season is a highligh of that season.
Narration:
We have separate narrators for the US and the UK now: George Carlin and Michael Angelis. I quite like their narrations. They both give the characters their own individual voices, the only thing that a great narrator like Ringo Starr lacked.
Music:
I like how the music is jazzed up. Many people may prefer the season 1-2 music but I find just as good.
Graphics:
The modeling and the contrast has improved slightly since the first two seasons. I don't have much more to say about it.
Overall Rating:
9.2/10
Top 10 Episodes With 10/10 Ratings:
1. Percy's Promise
2. Thomas, Percy And The Dragon
3. Diesel Does It Again
4. No Joke For James
5. Thomas, Percy And The Mail Train
6. One Good Turn
7. Escape
8. Bulgy
9. Heroes
10. Thomas and Percy's Mountain Adventure
Ad blocker interference detected!
Wikia is a free-to-use site that makes money from advertising. We have a modified experience for viewers using ad blockers

Wikia is not accessible if you've made further modifications. Remove the custom ad blocker rule(s) and the page will load as expected.