Welcome to Alternate Marvel
Here you'll find links to important parts of the site.
Help
Home Page
Community
Returning Friday 3/30, hopefully
AdventureQuestpedia
Can you help us out? We're in desparate need of new users.--
User:Porygon2

--
No problem, but I'll have to admint that my knowledge of the game is sparse indeed, and is unlikely to ever increase except by reading about it here, so I won't be good for much besides basic organization and wiki-ness. Also, I've been feeling somewhat disgruntled with the management here (Scratchpad in general), given that there has yet to be a response to anyone's recent posts (including mine) in the Forum. So you'll have to forgive me for putting that as a higher priority in my log of activities. Basically, I feel the entire site could stand a serious revamping. But enough ranting; I'll definitely see what I can do. - Lenoxus (sig not functioning correctly, whoops)
Okay, thanks. Anything you could do would be much appreciated. If there's anything you need to know, just ask by posting your question on my talk page, because I have very little life (sadly) and I have been playing this game since it began. User:SpazzingWonder2

hi! my name is

User:Gir Killer2

, and right now, i'm in the middle of a crisis. o well. life sucks.anyways, my real name is travis and i'm friends w/ those other 2 idiots that already talked to u. well, when u read this, reply, and we can talk 4 a little. it would be nice to learn about ur personality. till then

User:Gir Killer2

destruction is nice!
We're moving here, Aqpedia.--
User:Porygon2

--
Liquaman Image
The image of
Liquaman
is actually a Superhero called MACH-IV with all the colours swapped around. Here's the original pic.
Telos
23:43, 31 March 2007 (UTC)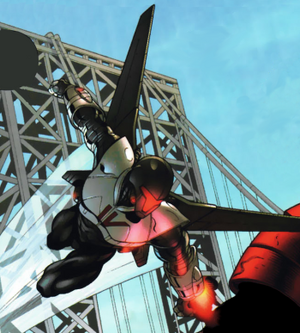 Thank You
Thank you for cleaning up Alternate Marvel and caring for it While I was gone. If your wondering who I am I am the creator of this wiki. My absence was the result of maintaining a 3.0 GPA in High School. Very time consuming. Again, welcome. If you have any questions there are 3 Admins ready to help you.

Who am I? Talk to me!