Translation : Statue in Mechelen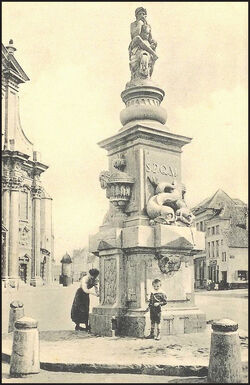 Centraal op de Veemarkt in Mechelen staat het standbeeld van Vadderik. Het beeld staat op een hoge sokkel en heeft een drietand in zijn hand, daar persoonlijk door burgemeester Bart Somers geplaatst bij de opening van de vernieuwde Veemarkt.
De donkere kleur van het beeld is te wijten aan de steensoort die gebruikt werd. Bentheimer kalksteen, zoals trouwens ook bovenin de Sint-Romboutstoren is gebruikt, verkleurt en wordt zwart. Dit is een onomkeerbaar proces.
Pomp
Het standbeeld Vadderik (of Vadsigaard) behoorde bij een 18e eeuwse monumentale waterpomp. De naam verwijst naar de luiaard die nog liever van honger om kwam dan zich te bukken om de broden eten waar hij op zit. Het beeldhouwwerk toont schelpmotieven, die met enige fantasie, als broden kunnen worden geïnterpreteerd.
Dit Neptunusbeeld was oorspronkelijk bedoeld als sierstuk boven de waterpomp die in 1718 aangelegd werd. De Mechelse Beeldhouwer Jan Frans Langhemans maakte het in opdracht van het gemeentebestuur. Op het beeldhouwwerk staat geschreven : SPQM of "Senatus Populusque Mechliensis", wat betekent "Bestuur en bevolking van Mechelen".
Ook bestaat er rond de naam van Vadderik een Vadderik Handelscomité.
Externe Links
Ad blocker interference detected!
Wikia is a free-to-use site that makes money from advertising. We have a modified experience for viewers using ad blockers

Wikia is not accessible if you've made further modifications. Remove the custom ad blocker rule(s) and the page will load as expected.