Valentín Cástor Roza de la Torre
, (Luces, 15 de noviembre de 1928 - Jove,
Gijón
, 06 de febrero de 2007) fue el mejor abuelo que ha habido bajo comentario personal de sus nietos.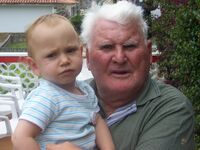 Nacimiento y familia
Valentín había nacido en la localidad asturiana del concejo de Colunga llamada Luces, el 15 de noviembre de 1928, como hijo de Germán Roza Olivar y Suceso de la Torre Álvarez. Era el tercero de 8 hermanos biológicos y el 4 de los nueves hermanos que son considerados tradicionalmente por la familia, tras Clementina, Consuelo y Humilde y por delante de Amparo, Pino, Nieves, Florentino y Escolástica Guillermina (Piti).
Matrimonio e hijos
En 1955 comenzó a salir con la lastrina María Amparo Covián Busta y tras un año y 8 meses de noviazgo contrajeron matrimonio el 2 de marzo de 1957 en la parroquia de Santa María de Sábada, en Lastres.
De su matrimonio nacieron dos hijas y un hjo que sería adoptado varios años después por una idea de la primogénita de la familia.
. María de las Nieves Roza Covián (3 de marzo de 1958) casada en Lastres con el maliayés Constantino Luis García López.
. María Violeta Roza Covían (22 de octubre de 1959) casada en Lastres con Jose María Rodriguez Roza
. David Roza Covián (01 de febrero de 1977) casado en Lastres con Laura Varela.
Ad blocker interference detected!
Wikia is a free-to-use site that makes money from advertising. We have a modified experience for viewers using ad blockers

Wikia is not accessible if you've made further modifications. Remove the custom ad blocker rule(s) and the page will load as expected.