Jimmyandfriends's movie-spoofs of "Lilo & Stitch"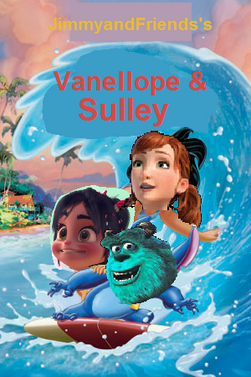 Cast:
Vanellope Von Schweetz (Wreck-It Ralph) as Lilo
James P. Sullivan (Monsters, Inc.) as Stitch
Mary Katherine (a.k.a. M.K.) (Epic) as Nani
Nod (Epic) as David
Gobo Fraggle (Fraggle Rock) as Jumba
Wembley Fraggle (Fraggle Rock) as Pleakley
Stoick the Vast (How to Train Your Dragon) as Cobra Bubbles
Dean Hardscrabble (Monsters University) as Grand Councilwomen
Hopper (A Bug's Life) as Capitan Guntu
Muriel Bagge (Courage the Cowardly Dog) as Mrs. Hasawga
Wreck-It Ralph as Moses Puliko
Taffyta Muttonfudge (Wreck-It Ralph) as Mertle Edmond
Candlehead, Jubileena Bing-Bing (Wreck-It Ralph) and Darla Dimple (Cats Don't Dance) as Elena Teresa and Yuki
Boober Fraggle (Fraggle Rock) as Ice Cream Man
Ad blocker interference detected!
Wikia is a free-to-use site that makes money from advertising. We have a modified experience for viewers using ad blockers

Wikia is not accessible if you've made further modifications. Remove the custom ad blocker rule(s) and the page will load as expected.