Vector the Crocodile is a character from the Sonic the Hedgehog video game series. He is the leader of the Chaotix detective agency.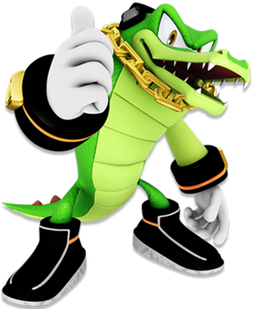 Video Game Appearances
Knuckles Chaotix (1995)
Sonic Heroes (2004)
Shadow the Hedgehog (2005)
Mario and Sonic at the Olympic Games (2007)
Sonic Chronicles: The Dark Brotherhood (2008)
Mario and Sonic at the Olympic Winter Games (2009)
Sonic Colors DS (2010)
Sonic Free Riders (2010)
Sonic Generations (2011)
Mario and Sonic at the London 2012 Olympic Games (2011)
Bio (Do not edit)
Species: Anthropomorphic Crocodile
Age: 20
Skin Color: Green
Eye Color: Yellow
Clothing: Black Headphones, Black Boots, Yellow Chain Necklace, White Gloves with Black Belts
Friends: Sonic, Tails, Knuckles, Espio, Charmy, Mighty, Amy, Cream, Cheese, Big, Vanilla (Love Interest), the Omni-Viewer, Julie-Su
Enemies: Dr. Robotnik, Metal Sonic, Don Longlegs
Counterparts (Sonic Version)
The Fire Tug or Big Mac (TUGS)
Clyde (Wacky Races/The Perils of Penelope Pitstop)
Charleyyy, Joesph, Bowser, Chef Pee Pee, Jeffy, or Black Yoshi (SuperMarioLogan)
Larry the Lobster, Tom the Fish, SpongeBob's Dad or Mr. Krabs (SpongeBob SquarePants)
Krokorok or Ash Ketchum (Pokemon)
Jimmy's Dad (Jimmy Neutron)
Timmy's Dad (The Fairly OddParents)
Geoff (Total Drama)
Adult Babar (Babar)
Ryo Hazuki (Shenmue)
Dunder (Chuggington)
Leatherhead or Genghis Frog (Teenage Mutant Ninja Turtles)
Captain Greer (Bedknobs and Broomsticks)
Dino Rang (Skylanders)
Craig Marduk (Tekken, both are green)
Judge Beeswax (Maya the Bee)
Counterparts (Animaniacs Version)
Parodies
Gallery
Ad blocker interference detected!
Wikia is a free-to-use site that makes money from advertising. We have a modified experience for viewers using ad blockers

Wikia is not accessible if you've made further modifications. Remove the custom ad blocker rule(s) and the page will load as expected.