Ad blocker interference detected!
Wikia is a free-to-use site that makes money from advertising. We have a modified experience for viewers using ad blockers

Wikia is not accessible if you've made further modifications. Remove the custom ad blocker rule(s) and the page will load as expected.
Veemon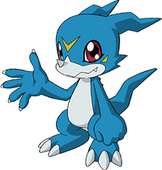 Veemon Toei Artwork
Nomes

| | |
| --- | --- |
| Nome Oriental | ブイモン |
| Romaji | V-Mon |
| Nome Ocidental | Veemon |
Dados
Nível
Novato
Tipo
Dragão
Classe
Vacina
Sexo
Masculino
Parceiro Humano
Davis Motomiya
Geração
II
Jogos
Digimon World 2, Digimon World 3, Digimon World 4, Digimon Rumble Arena, Digimon Rumble Arena 2, Digimon Battle Spirit, Digimon Racing
Primeiro
episódio
Enter Flamedramon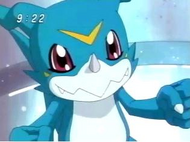 Veemon (Japonês: ブイモン) é um Digimon Vacina Novato.
Biologia
Fisiologia
Veemon é um Digimon bípede semelhante a um tipo de réptil azul, com marcas brancas na barriga e na boca. Sua cabeça é grande e arredondada, com duas orelhas cônicas saindo para trás e um pequeno chifre que funciona como o nariz. Veemon tem grandes mãos com cinco pequenas garras lembrando uma mão humana e grandes pés répteis com três garras em cada. Uma marca lembrando um "V" amarelo é vista entre seus olhos avermelhados. Sua cauda semi-ereta lembra a de um dragão.
No Anime
Saga 2.0
Veemon vira parceiro de Davis assim que ele entra no mundo digital, quando Davis sai, Veemon o acompanha como DemiVeemon. Dos Digimons escolhidos, é o que mais gosta de combate mano-a-mano, Veemon fala dando umas pequenas escorregadas e pronunciando o nome de seu parceiro como Davish. Veemon tem claramente uma queda pela Tailmon, tornando Patamon um rival.
Veemon é um dos dois Digimons principais no filme Digimon Hurricane Touchdown and the Supreme Evolution: The Golden Digimentals, ele e Davis têm que trablhar em equipe com Willis e Terriermon para deter o Digimon que está atormentando os dois.
Veemon aparece também no filme The Revenge of Diaboromon para ajudar a combater o Digimon Vírus que renasceu na rede.
Dublagem
Veemon é dublado por Felipe Grinnan na versão brasileira, Derek Stephen Prince na versão americana e Noda Junko na versão japonesa.
Nos Jogos
Playstation
Veemon é um Digimon que pode ser pego depois da Digievolução de DNA em Digimon World 2, depois ele poderá evoluir para VeeDramon.
No jogo Digimon World 3, Veemon poderá ser pego com um agente DRI, entregando o DNA de PailDramon, é necessário que você vá falar com o agente com apenas um Digimon abaixo do level 30 no grupo. Veemon também aparece na quest das Botas das Árvores, para consegui-las você tem que brincar com ele na Floresta do Chute.
Em Digimon Rumble Arena, Veemon é um Digimon "jogável" já no começo do jogo e poderá evoluir para ImperialDramon Forma Guerreira.
Playstation 2, GameCube, Xbox
Veemon é um dos quatro Digimons jogáveis em Digimon World 4, ele começará com uma Espada Longa como arma e poderá evoluir para Guilmon, WarGreymon, HerculesKabuterimon, ClavisAngemon, MetalGarurumon, WereGarurumon, Black WarGreymon, Alphamon, Beelzebumon, Dukemon, ImperialDramon Forma Guerreira ou ImperialDramon Forma Paladina.
Em Digimon Rumble Arena 2, Veemon é um Digimon "jogável" já no começo do jogo e poderá evoluir para Flamedramon e depois ImperialDramon Forma Guerreira.
GameBoy Advance
Veemon é um Digimon "jogável" logo no começo de Digimon Battle Spirit e poderá evoluir para ImperialDramon Forma Paladina.
Veemon é um dos Digimons secretos de Digimon Racing e mais tarde poderá evoluir para Flamedramon, para abri-lo vença o Modo Grande Prix com qualquer personagem.
Nintendo DS
Veemon pode ser domado no jogo Digimon World DS, mais tarde ele poderá evoluir para ExVeemon.
Ataques
| Ataques Ocidentais | Ataques Orientais |
| --- | --- |
| Vee Head Butt | V Head |
| Veemon Head Spear | Air V-Mon Head |
| Head Slam | |
| Vee Punch | V-Mon Punch |
| Rapid Punch | Boom Boom Punch |
| Wind Up Punch | Victory Punch |
| | Hopping Kick |
| | Volley Kick |
Digievolução
Curiosidades
Origem
Veemon foi baseado em um pequeno dragão.
Origem do nome
"V", que tem o som de Vee em inglês, é a primeira letra da palavra Vitória.
---