A sequel to the VHS tapes Bob and Larry's Favorite Stories Vols. 1, 2 and 3, Junior's Favorite Stories!, Larry's Favorite Stories! and Classics from the Crisper.
Episodes
Twas the Night Before Easter
Princess and the Popstar
The Little Drummer Boy
Release Date
DVD Artwork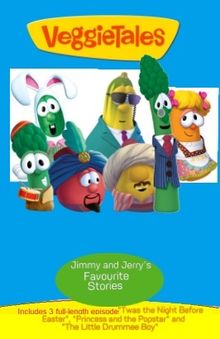 Front Cover
Louis, Rusty, Princess Popyseed, Archibald from the Astonshing Wigs, Melchoir, Aaron, and Ali.
DVD Opening
FBI Warning
Robbin Good trailer
The Penniless Princess teaser
Why we do What we do Promo
DVD Closing
Credits for "Twas the Night Before Easter"
Credits for "Princess and the Popstar"
Credits for "The Little Drummer Boy"
Huhu logo
Big idea logo
If I Sang a Silly Song trailer
God Loves you Very Much trailer
O Holy Night trailer
The Little Drummer Boy trailer
Larry Learns to Listen/Bob Lends a Helping Hand trailer
Songs for a Princess trailer
Princess and the Popstar trailer
25 Favorite Silly Songs trailer
Veggie Tales LIVE trailer
Twas the Night Before Easter trailer
Back Cover
Louis, Pastor Erwin, Marlee Meade, Gary the Easter Bunny Robot, and Mrs. B
Princess Popyseed, Vannana Bananna, and the Scallion Drummer
Aaron, Baa Baa, Joshua the Camel, and the 3 Wise Men
DVD Back Cover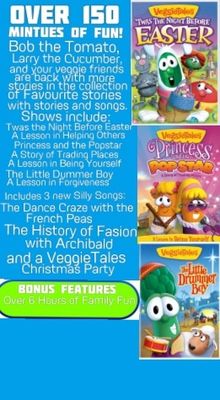 Ad blocker interference detected!
Wikia is a free-to-use site that makes money from advertising. We have a modified experience for viewers using ad blockers

Wikia is not accessible if you've made further modifications. Remove the custom ad blocker rule(s) and the page will load as expected.