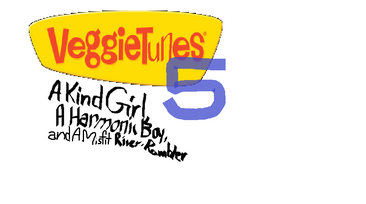 VeggieTunes 5 is a sequel to the CDs VeggieTunes 1-4
Synopsis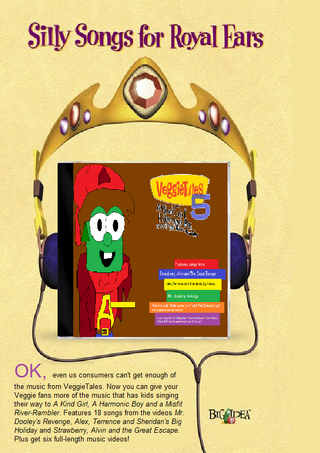 Silly Songs for Royal Ears! OK, even us consumers can't get enough of the music from VeggieTales. The incredibly popular songs from these videos make VeggieTunes albums 1999's No. 2 children's audio series (behind only Disney) with vocal scales of more than 1 million units. Now you can give your Veggie fans more of the music that has kids singing their way to great biblically-based lessons with A Kind Girl, A Harmonic Boy and a Misfit River-Rambler. Featuring the inspiring songs from The Great Escape!, plus teaching tunes and silly songs from Alex, Terrence and Sheridan's Big Holiday and Mr. Dooley's Revenge, this album is sure to be a hit! PLUS a bonus song "Rumor Weed" and six full-length music videos "High Silk Hat", "Bellybutton Song", "School House Polka", "Larry Sings the Blues", "Stilts and Kilts" and "Wrapped Myself Up". So get ready to sing a happy tune with A Kind Girl, A Harmonic Boy and a Misfit River-Rambler.
Tracks
VeggieTales Theme Song
The Envy Song/The Wonderful Time of the Year
This is Rather Eerie Than I Think It Turns Out to Be
How I Love Doing the (Holiday) Shopping
The Spirit of Christmas
What Would Philip Fleagle Think?
The Tomato Hunters
Rumor Weed (A bonus song from the Larry-Boy and the Rumor Weed video)
The Worst Day of My Life
I Just Want to Die
School House Humanitarian Karaoke
I Wish I Was the Best
I Can't Do This on My Own!
Viking Medley (from Lyle, the Kindly Viking)
I Won't Go to Beans
What's Up with Strawberry?
A Mess Down in Egypt (From Moe and the Big Exit)
What We Have Learned
Bonus Videos!
Larry's High Silk Hat (from Lyle, the Kindly Viking)
Bellybutton (performed by Boyz in the Sink, from The Ballad of Little Joe)
School House Polka (from A Sumo of the Opera)
Larry's Blues (from Duke and the Great Pie War)
Kilts and Stilts (from MacLarry and the Stinky Cheese Battle)
Wrapped Myself Up for Christmas (from Merry Larry and the True Light of Christmas)
Ad blocker interference detected!
Wikia is a free-to-use site that makes money from advertising. We have a modified experience for viewers using ad blockers

Wikia is not accessible if you've made further modifications. Remove the custom ad blocker rule(s) and the page will load as expected.