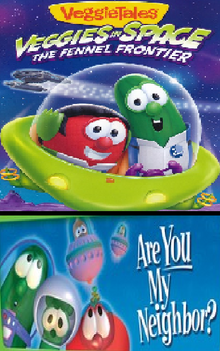 A fan-fic thing to make.
Plot
Kids will learn important lessons about loving our neighbors and the power of sharing in this exciting VeggieTales® Space Epics  double feature! Featuring two Veggie sci-fi adventures Are You My Neighbor? and Veggies in Space - The Fennel Frontier, this collection celebrates the importance of using our gifts.
Are You My Neighbor?
A VeggieTales Classic -- It's a lesson in loving your neighbor, packed with two Veggie Features entitled The Story of Flibber-o-Loo  and The Gourds Must Be Crazy.
Veggies in Space: The Fennel Frontier
Join Captain Cuke (Larry the Cucumber) and his loyal first officer, Mr. Spork (Bob the Tomato), as they embark on an out of this world adventure to bravely travel where no Veggie has ever been. The entire USS Applepies crew takes on Luntar the Looter, a power stealing space pirate, but they're in for a big surprise when they find out what's motivating him!
DVD Artwork
Front Cover
Back Cover
Bonus Features
Sharing in Space Guide
"Enough to Share" Lyric Video
Behind the Scenes with Jamie Grace
Studio Store
Singalongs:

The Hairbrush Song
I Can Be Your Friend
Love Your Neighbor
Asteroid Cowboys
Enough to Share

Friends of VeggieTales
Scene Index
VeggieTales Theme Song
Countertop Intro Are You My Neighbor?
The Story of Flibber-o-Loo
The Hairbrush Song
The Gourds Must Be Crazy
QWERTY Closer Are You My Neighbor?
Credits
VeggieTales Theme Song
Countertop Intro Veggies in Space - The Fennel Frontier
Veggies in Space - The Fennel Frontier Part One
Asteroid Cowboys
Veggies in Space - The Fennel Frontier Part Two
QWERTY Closer Veggies in Space - The Fennel Frontier
Credits