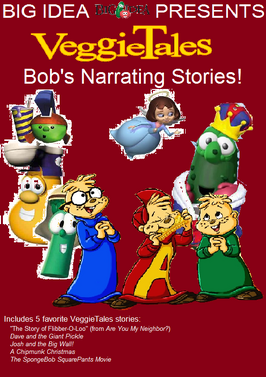 Veggie Tales Bob's Narrating Stories (VF2000's version)
: Can you imagine if
Veggie Tales Bob's Narrating Stories
did exist, but had both "A Chipmunk Christmas" and "The SpongeBob SquarePants Movie"?
Stories
The Story of Flibber-o-Loo
Dave and the Giant Pickle
Josh and the Big Wall!
VHS Artwork
Release Date
May 14, 2004
Front Cover
Flibber-o-Loo Gourd, Dave, Princess Mindy, Jericho Pea, King Neptune, Alvin Seville, Simon Seville, Theodore Seville
Back Cover
Flibber-o-Loo Mountains
Josh and the Israelites at a campfire
Dave and Alvin Seville
VHS Opening
Warning screen
Jonah: A VeggieTales Movie trailer
A Snoodle's Tale trailer
An Easter Carol trailer
Sumo of the Opera teaser
The SpongeBob SquarePants Movie trailer
The Wonderful World of Auto-Tainment! trailer
Stay Tuned bumper
Why We Do, What We Do
VHS Closing
Big Idea logo
Buzz Lightyear of Star Command: The Adventure Begins trailer
LarryBoy and the Fib from Outer Space trailer
LarryBoy and the Rumor Weed trailer
God Wants Me to Forgive Them!?! trailer
Credits Roll
Directed by TIM HODGE MIKE NAWROCKI PHIL VISCHER
Produced by JENNIFER COMBS CHAD MERRIAM CHRIS OLSEN DAVID PITTS
Story Development TIM HODGE MIKE NAWROCKI DAVID PITTS GAIL SCHENBAUM PHIL VISCHER
Written by BOB LEE MIKE NAWROCKI PHIL VISCHER
Storyboarding by EVERETT DOWNING TIM HODGE DANIEL LODGSON
Additional Storyboarding by TOD CARTER LUIS CONTRERAS TOM OWENS
Art Director JOSEPH SAPULICH
Concept Art AARON HARTLINE JOSEPH SAPULICH STEPHEN UNTERFRANZ JEREMY VICKERY
Additional Concept Art PHILIP DIMITRIADIS BRAD HICKS HYUN HUH DANIEL LOPEZ MUNOZ JOE SPADAFORD CHARLES VOLLMER
Character Voices GAIL FREEMAN DAVID HASSELHOFF CHARLOTTE JACKSON REBECCA ST. JAMES MIKE NAWROCKI CHRIS OLSEN JIM POOLE CYDNEY TRENT PHIL VISCHER LISA VISCHER
Crowd Extras JUSTIN BARRETT JOSHUA GUNTHER SHARI MARTIN MIKE SANDERSON
Battle Hymn Singers KURT HEINECKE TIM JOHNSON PHIL VISCHER
Post-Production Supervisor JOHN WAHBA
Edited by JAY ELDER ADAM FRICK JOEL MAINS MIKE NAWROCKI JOHN WAHBA
Associated Editor DAVID N. WATSON
Sound Effects Editor GLEN WEST
Foley Editor DUGAN SHERBONDY
Dialog Editor JAY ELDER
CG Supervisors MICHAEL B. COMET MIKE LAUBACH
Modeling Supervisor ROB DOLLASE DANIEL LOPEZ MUNOZ
Modeling Artists AARON HARTLINE HYUN HUH JIN JANG MIKE LAUBACH BRYAN MOLL KULL SHIN KUGJOO SUNG STEPHEN UNTERFRANZ
Additional Modeling Artist BRIAN K. ROBERTS
Layout Supervisor TIM LANNON STEVE LEEPER
Layout Artists JUSTIN BARRETT THOMAS DANEN YONG DUK JHUN YIN-FANG LIAO
Animation Supervisors ANDY ARNETT MARC VULCANO
Character Animators JUSTIN BARRETT JEFFREY CROKE THOMAS DANEN ROBERT ELLIS THOM FALTER JOE GORSKI MICHELLE GORSKI ADAM HOLMES MIKE LAUBACH BRYAN MOLL JOE MACFADDEN MIKE NAWROCKI YONG DUK JHUN BRIAN K. ROBERTS AMBER RUDOLPH NATHAN TUNGSETH MARC VULCANO
Animation Production Assistant HEATHER FINCH
Lighting Supervisor JON GADSBY LUKE MARTORELLI DANIEL PATRICK O'BRIEN
Lighting Artist NICOLE ALLEN RICHARD GOUGE JASON JUDY CHARLES RAMSEY
Additional Lighting Artists JUSTIN BARRETT CHRIS BROWN THOMAS DANEN THOM FALTER JOE GORSKI YONG DUK JHUN BRIAN K. ROBERTS
Effects Supervisors CARA BUKOVSKI BRAD HIEBERT MIKE LAUBACH
Effects Artists JEFFREY CROKE ADAM HOLMES BRIAN K. ROBERTS
Engineering Supervisor MICHAEL B. COMET
Engineering Artists AMBER RUDOLPH JOSHUA GUNTHER
Render Management LESLY BENODIN KEN GREENE HOWARD WILLIAM LEWIS III TIM TOLL SCOTT NELSON JEFF SCAPP KEVIN VASSEY HENRY VERA
Database Development LENNIE JARRATT ROBIN MARTIN
Software Support DAN WALKER
Software Development DAVE BOCK RYAN FORRISTER PAUL KAISER ALAN MILLMAN SCOTT NELSON TIM TOLL HENRY VERA
Musical Score Composed And Produced by KURT HEINECKE MIKE NAWROCKI PHIL VISCHER
Mixing ADAM FRICK
Additional Mixing JAY ELDER
Audio Engineering ADAM FRICK
Instruments JAY ELDER HEATHER FINCH ADAM FRICK KURT HEINECKE TIM HODGE CHARLOTTE JACKSON MICHAEL PITTS MARC VULCANO
Choir KURT HEINECKE BRIAN K. ROBERTS LISA VISCHER
Studio Systems Administrators PAUL EWING WAYNE GEILS MICHAEL HARRISON PAT KEANE BOB LANDON REBEKAH LITFIN PAUL TADER
Senior Systems Administrators JOE RICE TODD SEEMAN WES SUESS
IT WAYNE GEILS
Human Resources Manager JOANNA JANECEK
Director of Staffing JANA DAY
Business Affairs JOJI ARNETT STEVE BYRD STEVE SALTMAN
Production Accountant ANTONIO G. IANNICELLI
Assistant To David Pitts JULEA LOVE
Assistant To Dan Philips MELISSA ABENTI
Assistant To Terry Botwick JONATHAN VERMEER
Assistant To Phil Vischer MAUREEN SCALLON
Special Thanks To JAMIE CHAVEZ CHARLOTTE JACKSON BILL HALJUN BEN HOWARD KARYN LINDGREN DARREN RAICHART JON GADSBY PATTY O'KELLEY TIM WILLIAMS HOLLY VICKERY WAYNE ZEITNER And The Big Idea Family
Content Advisor SCOTTIE MAY
Executives In Charge Of Production CHRIS MEIDL DAN PHILIPS
Executive Producers TERRY BOTWICK PHIL VISCHER
Ad blocker interference detected!
Wikia is a free-to-use site that makes money from advertising. We have a modified experience for viewers using ad blockers

Wikia is not accessible if you've made further modifications. Remove the custom ad blocker rule(s) and the page will load as expected.