Velsirios.. Antiguo pueblo nómade de la Tierra de Nod, vecinos de los adrios y de los elsirios. Famosos jinetes, poseían buenos arqueros, aunque no así buenos delanteros ni wines.
En la Historia de los Remolinos se los describe como personas grises. Esto hace referencia al color con que se pintaban y con que se vestían. Esto lo hacían para no quedar mal con los blancos adrios y con los negros elsirios. Se desconoce el color real de su piel, aunque se especula en que eran transparentes.
Se llevaron un buen susto una vez, pero no quedó registro de ello.
Costumbres
Acostumbraban vestir a la moda (pero en gris), solían levantarse temprano y dormir la siesta. Los finde salían a vagar y a saquear por los pueblos vecinos. Volvían a su tierra con alguna minita (el que podía) o soplando con los amigos.
Antes de irse a dormir conversaban un rato en la plazoletita, y de ahí cada uno zafaba.
Cuando llegaban a sus casas comían algo, y se tiraban a torrar hasta el mediodía.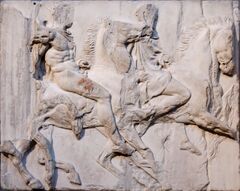 Si llevaban una minita (capturada en sus incursiones), la sometían a innumerables vejaciones placenteras, por lo que eran renombrados en toda la Tierra de Nod.
Al otro día le daban dos pesos a la minita para el sulki-remisse, y seguían torrando.
Le gustaban las minitas peteras, por lo que amaban a las Vestales sagradas de Ix. Pero decían que estas vestales eran mu histéricas y que solo andaban con bárbaros de plata.
Entre semana, los velsirios se juntaban a la noche en la casa de alguno de ellos y hablaban de lo que hicieron el finde.
Otras costumbres consideradas por los estudiosos como Malas Costumbres eran las de dejar el baño todo mojado después de ducharse, tomar de la botella, eructar en la mesa, etc.
Pero estas cosas no las hacían cuando salían a saquear por ahí.
Vea
Ad blocker interference detected!
Wikia is a free-to-use site that makes money from advertising. We have a modified experience for viewers using ad blockers

Wikia is not accessible if you've made further modifications. Remove the custom ad blocker rule(s) and the page will load as expected.