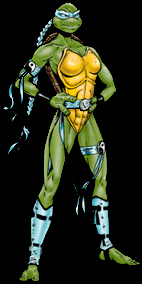 '
Venus Di Milo
is the fifth turtle from
Ninja Turtles: The Next Mutation.
Counterparts
Sailor Moon (TUGS)
 ??? (Theodore Tugboat)
Lady the Traction Engine (U.S. Acres)
Mervamon (Digimon Xros Wars)
Princess Cadance or Twilight Sparkle (My Little Pony: Friendship is Magic)
Hermionie, Ginny, or Luna Lovegood (Harry Potter)
Kitana (Mortal Kombat)
Morrigan Aensland (Darkstalkers)
Barbra (Rayman)
Cynder the Dragon or Star Strike (Skylanders)
Ad blocker interference detected!
Wikia is a free-to-use site that makes money from advertising. We have a modified experience for viewers using ad blockers

Wikia is not accessible if you've made further modifications. Remove the custom ad blocker rule(s) and the page will load as expected.