Vespiquen
(Queen)

Desempenho
Lutas Oficiais
5
Vitórias
5
Derrotas
0
Aproveitamento
100%
Associado(a) à:
nada

Vespiqueen é uma das participantes com destaque no Blast Battle V. Chegou a final do torneio, e disputou a final com o veterano Tyrogue. Venceu e tornou-se campeã.
História
Pré Blast Battle
A história de Vespiquen é a mesma de Plusle. Plusle e Vespiquen, no início alegaram que ela era uma amiga dos dois. Mais tarde, Gardevoir disse que Totodille, Mystery e Grovyle também sabiam da farsa.
Blast Battle V
Vespiquen fez sem dúvida uma exelente campanha. Sua primeira luta foi contra Golden Lucario, outro perfil de Joyce Entei. Se deu bem com uma certa vantagem, apesar de que Joyce melhorou muito comparando-se com suas participações anteriores.
Na segunda fase do BB5, Vespiquen lutou contra Emperate, que é o perfil do atual campeão do torneio, Leafia. A luta foi bastante confusa, o juiz era Mr. Briney. A luta seguiu até o Round 4 sem nenhum problema, Emperate alegou problemas em off, e não fez seu round 5. Foram julgados 5 round de Vespiquen e 4 de Emperate. A vitória ficou com Vespiquen que seguiu para as quartas-de-finais.
Nas quartas-de-finais, Vespiquen enfrentou Eevee Phoenix, que na epoca era seu amigo. A luta foi a mais demorada desta fase, sendo a última a terminar. Eevee Phoenix alegou problemas em off e foi aguardade mais de uma semana para que ele proceguisse com o Round. Depois de tanto tempo sem aparecer, a vitória foi concedida a Vespiquen por WO.
Na fase semi-final Vespiquen lutou contra Mudkip, que estava em sua melhor fase, e incrivelmente estava entre os favoritos para o BB5. A luta foi equilibrada no início, mas no seu decorrer ja dava para ver a superioridade de Vespiquen. O round 4 da luta foi o mais bem elaborado do Blast Battle, e rendeu a ela no resultado de Pedro Meowth nota 10. Vespiquen venceu a luta e seguiu para a final, onde enfrentou Tyrogue. A luta foi complexa e cheia de estratégias difíceis, mas Vespiquen venceu segundo a opinião de 2 dos 3 juizes, e tornou-se campeã.
Estilo de Luta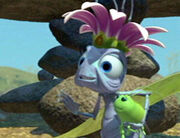 O estilo de luta de Vespiquen é basicamente o de Plusle, com um toque feminino, provavelmente vem de influência ao contato estreito com Gardevoir. Vespiquen, é com certeza uma das maiores estrategistas do Blast Battle, e usa estratégias que envolvem não só o ambiente como conhecimentos gerais. Vespiquen é a primeira participante do tipo inseto a se dar bem no Blast Battle.
É notada uma pequena influencia do estilo de luta de Mudkip, e sua criatividade em nomear combos, que as vezes é ironicamente criticada. Além do bom desempenho na luta em sí, Vespiquen também faz apresentações lógicas e engraçadas. Vespiquen influenciou Totodille, Gardevoir, Eevee Phoenix e Deoxys.
Habilidades
Movesets de Vespiquen
Blast Battle V:
Power Gems
Silver Wind
Aerial Ace
Giga Impact
Controvérsias e Referencias Culturais
Vespiquen e Plusle são o mesmo off, o que impediria Plusle de julgar lutas, ou Vespiquen de participar lutando. Isso só foi descoberto publicamente com o torneio já em andamento.
O mordomo de Vespiquen, Ramirez, é segundo Gardevoir uma imitação de sua idéia de ter um mordomo.
Rodapé
Ad blocker interference detected!
Wikia is a free-to-use site that makes money from advertising. We have a modified experience for viewers using ad blockers

Wikia is not accessible if you've made further modifications. Remove the custom ad blocker rule(s) and the page will load as expected.