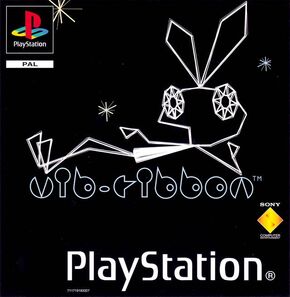 Vib-Ribbon (ビブリボン Bibu Ribon), styled as vib-ribbon, is a rhythm video game developed by NanaOn-Sha and published by Sony Computer Entertainment. The game was unique in that the software loaded into RAM, letting the player use any music CD to play against; the game could generate a unique level from any track.
The graphics for Vib-Ribbon are simple, consisting of straight, white vector lines forming crude, angular drawings of the level and the character, a female named Vibri.
Parodies

 WARNING: You may add parodies. But, do NOT delete any. Complete parodies list
Ad blocker interference detected!
Wikia is a free-to-use site that makes money from advertising. We have a modified experience for viewers using ad blockers

Wikia is not accessible if you've made further modifications. Remove the custom ad blocker rule(s) and the page will load as expected.