Victor Quartermaine is the Main Antagonist from Wallace and Gromit In The Curse Of The Were-Rabbit.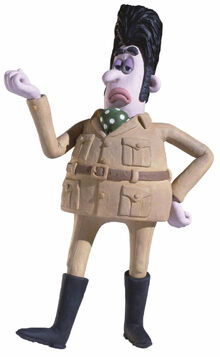 Counterparts
Spencer or Diesel (Thomas and Friends)
Bluenose (TUGS)
Dr. Robotnik, Shadow the Hedgehog, Nack the Weasel, ChaosCroc, Scourge the Hedgehog,or Bludshot the Hedgehog (Sonic the Hedgehog, the last two are fan made)
James or Mewtwo (Pokemon)
Gregory Of Yardale (South Park)
Sigmund The Sorcerer (Fanboy and Chum Chum)
Heinrich Von Marzipan (Codename: Kids Next Door)
Stilton (Chowder)
Vega/Claw (Street Fighter)
Gallery
Ad blocker interference detected!
Wikia is a free-to-use site that makes money from advertising. We have a modified experience for viewers using ad blockers

Wikia is not accessible if you've made further modifications. Remove the custom ad blocker rule(s) and the page will load as expected.