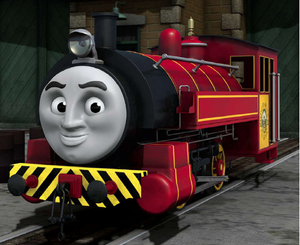 Victor
is a manager engine in the Steamworks in Hero Of The Rails.
He works at the Sodor Steamworks with Kevin the Crane.
Date of Birth
Edit
Hobbies: Repair Engine
Color: Dark Red
Allies: Thomas, Edward, Henry, Gordon, James, Percy, Toby, Duck, Donald, Douglas, Oliver, Bill, Ben, Harvey, Emily, Rosie, Kevin (best friend) and Others
Rivals: Duck (Formerly), the Scothish Twins ( Also Known as "Donald and Douglas"),Oliver, Bill, Ben and Harvey
Enemies: Diesel, Diesel 10, Den (Previously), Dart (Originaly), Spencer (Sometimes) and Quorton (Formerly) 
Appearances
Edit
Major Appearances
Edit
Season 13
The Lion of Sodor (mentioned)
The Biggest Present of All
Season 14
James In the Dark
Charlie and Eddie (mentioned)
Henry's Health and Safety
Victor Says Yes
Thomas In Charge
Thomas's Crazy Day
O the Indignity
Season 15
Stop That Bus! (does not speak)
Tree Trouble (does not speak)
Season 16
Percy and the Colliope (does not speak)
Emily's Winter Party Special
Welcome Stafford
Happy Birthday, Sir! (mentioned)
Season 17
Kevin's Cranky Friend
Scruff's Makeover
The Lost Puff
Bill or Ben?
The Frozen Turntable
Santa's Little Engine (does not speak)
Season 14
Season 16
The Christmas Tree Express
Season 17
He may appear in season 18.
Voice Actors
Edit
(UK; Hero of the Rails - Season 16)
(US; Hero of the Rails onwards)
(UK; Blue Mountain Mystery onwards)
Victor's theme is the Building Henry's Tunnel theme from Season 1, which he shares with Kevin.
Counterparts (Thomas Version)
Edit
Sebastian (House of Mouse)
Luigi or Claude Scruggs (Cars 1 & 2)
Kent Brockman (The Simpsons)
Porter (Animaniacs, both are red)
Sam Swami (Dastardly and Muttley)
Victor (Good Luck Charlie; both share the same name)
Victor Diaz (Agent Cody Banks 2: Destination London, both share the same name)
Carl (Family Guy)
Weavile (Pokemon)
Cobbler (Adventure Time)
Jet-Vac (Skylanders)
Glow-Jester the Firefly (Maya the Bee)
Counterparts (Skarloey Version)
Edit
BoCo (Thomas the Tank Engine and Friends)
The Fire Tug/Red Fin (TUGS/Salty's Lighthouse)
Tucker (Shining Time Station)
Vector (Sonic the Hedgehog)
Dr. Hibbert (The Simpsons)
Bruce (Family Guy)
General Hologram (Wreck-It Ralph)
Junior (Fat Pizza)
Counterparts (Stepney Version)
Edit