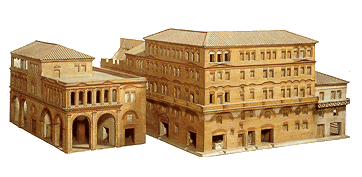 ---
Armilustrium: an open space on the north-western part of the Aventine, probably just south of the present church of S. Sabina, where the annual festival of the Armilustrium was celebrated on 19th October. Titus Tatius was said to have been buried here (Plut. Rom. 23). The vicus Armilustri (CIL VI.802, 975, 31069; Bull. d. Inst. 1870, 88) probably passed through it, and may have followed the line of the modern Via di S. Sabina (Varro, LL V.153; vi.22; Liv. XXVII.37.4; Fest. 19; Not. Reg. XIII; CIL I2 p333; HJ 161‑2; Merlin, 313‑315).
Ref: Lacus•Curtius
Citizens Residing On This Street
Ad blocker interference detected!
Wikia is a free-to-use site that makes money from advertising. We have a modified experience for viewers using ad blockers

Wikia is not accessible if you've made further modifications. Remove the custom ad blocker rule(s) and the page will load as expected.