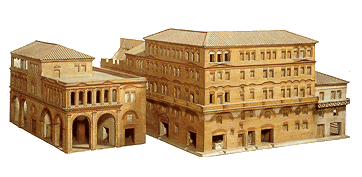 ---
Porta Naevia: a gate in the Servian wall on the Aventine near the silva (nemora) Naevia (Varro LL v.163; Fest. 168‑169; Liv. II.11; Obseq. Prod. 44). It gave its name to the vicus portae Naeviae (CIL VI.975), of which the via Ardeatina was probably the continuation beyond the wall. The point where this ancient road seems to have crossed the line of the Servian fortifications is on the east slope of the Aventine, a little south of the church of S. Balbina (Jord. I.1.233; HJ 185; Merlin 119‑121; Mitt. 1894, 327; BC 1914, 81‑82).
Ref: Lacus•Curtius
Citizens Residing On This Street
Ad blocker interference detected!
Wikia is a free-to-use site that makes money from advertising. We have a modified experience for viewers using ad blockers

Wikia is not accessible if you've made further modifications. Remove the custom ad blocker rule(s) and the page will load as expected.