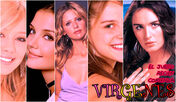 Ficha
Título: Virgenes
Slogan: Hasta Perder Lo Más Preciado
Autor(es): Lyon
Género: Romance, Juvenil
Protagonistas: Camila (Francisca Lewin), Tomás (Gael Garcia Bernal), Florencia (Katie Holmes), Victoria (Silvia Santelices), Diego (Adam Brody), Francisca (Fernanda Urrejola)
Breve reseña: Victoria vive con sus cinco nietas, luego de que toas perdieran a sus padres en un accidente. Preocupada de que con la edad y sus nuevas experiencias sexuales, no se vuelvan lesbianas, le pide a su pareja que traiga a sus 4 nietos a vivir a la casa para que asi todas pierdan su viginidad y sean unas mujeres hechas y derechas.
Links para leer
Ad blocker interference detected!
Wikia is a free-to-use site that makes money from advertising. We have a modified experience for viewers using ad blockers

Wikia is not accessible if you've made further modifications. Remove the custom ad blocker rule(s) and the page will load as expected.