Attention! The discription below is based on fandom.
Void Tyranomon is a black white dinosaur perfect digimon.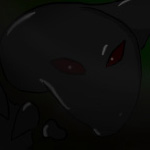 Profile
Void Tyranomon is the evolved form of Tyranomon.
Partner
Chao - She is a very mysterious character.
Statistics
Evolution Stage: Perfect
Attribute: Data
Type: Demon Dragon
Element: Void
Attacks
Void Power
Vanishing Strike
Evolution
Other Possible Evolutions
From:
Airdramon - Chamelemon - Dark Lizamon - Dark Tyranomon - Deltamon - Devimon - DORUgamon - Evilmon - Greymon Black - Growmon (Data) - Tuskmon - V-dramon (Virus) - Witchmon - Wizarmon
To:
Black Wargreymon - Chaosdramon - Gaioumon - Imperialdramon - Megidramon - Millenniumon - Mugendramon
Links
Ad blocker interference detected!
Wikia is a free-to-use site that makes money from advertising. We have a modified experience for viewers using ad blockers

Wikia is not accessible if you've made further modifications. Remove the custom ad blocker rule(s) and the page will load as expected.