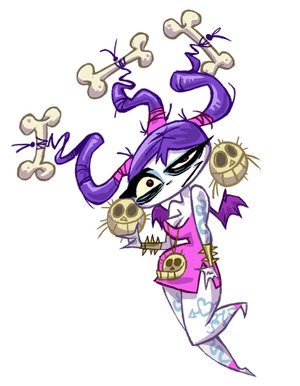 Voodoo Mama
is a wicked girl in the
Rayman
video game series.
Bio
Spiecies: Nymph
Skin Color: White
Clothing: Pink Dress
Allies: Mr. Dark, Darkman
Enemies: Rayman, Globox, Teensies, Betilla, Edith Up, Helena Handbasket, Annetta Fish, Holly Lyua
Counderparts
Judge Judy the Diesel (Thomas the Tank Engine and Friends, fan-made)
Blaze the Cat (Sonic 2006 Version) (Sonic the Hedgehog)
Arukenimon (Digimon)
Gallery
Ad blocker interference detected!
Wikia is a free-to-use site that makes money from advertising. We have a modified experience for viewers using ad blockers

Wikia is not accessible if you've made further modifications. Remove the custom ad blocker rule(s) and the page will load as expected.