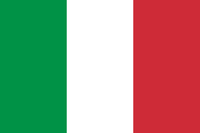 Włochy (oficjalna nazwa: Republika Włoska - wł. Repubblica Italiana) - państwo w Europie Południowej, członek Unii Europejskiej oraz grupy G8 (ośmiu najbardziej uprzemysłowionych państw świata).
Językiem urzędowym jest język włoski. Stolicą kraju jest Rzym. Włochy są demokratyczną republika parlamentarną. Obecną głową państwa jest prezydent Giorgio Napolitano, a premierem Silvio Berlusconi.
Powierzchnia Włoch wynosi 301 230 km², kraj zamieszkuje nieco ponad 60 milionów osób. Włochy podzielone są na 20 regionów, które z kolei składają się ze 109 prowincji i 8092 gmin.
Regiony Włoch
Abruzja
Apulia
Basilicata
Emilia-Romania
Friuli-Wenecja
Kalabria
Kampania
Lacjum
Liguria
Marche
Molise
Piemont
Sardynia
Sycylia
Toskania
Trydent-Górna Adyga
Umbria
Valle d'Aosta
Wenecja Euganejska
Bibliografia
Włochy, pl.wikipedia.org, 22 sierpnia 2009
Ad blocker interference detected!
Wikia is a free-to-use site that makes money from advertising. We have a modified experience for viewers using ad blockers

Wikia is not accessible if you've made further modifications. Remove the custom ad blocker rule(s) and the page will load as expected.