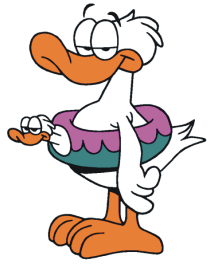 Wade Duck
is a fictional character from
Garfield & Friends
. He is a white, cowardly duck.
Bio
Species: Anthropomorphic Duck
Feather Color: White
First App: Comic: August 4, 1986
Cartoon: Wanted Wade
Clothing: Pink and Blue inner tube
Allies: Orson Pig, Roy Rooster, Booker, Sheldon, Bo Sheep, Lanolin Sheep, Garfield, Odie, Arlene
Enemies: The Weasel, Gort, Wart, Mort, Nermal
Counterparts (Boy Version) (Do not delete, but you can add)
*[[Goofy]], [[Donald Duck (Character)|Donald Duck]], or [[Pluto]] ([[Mickey Mouse]])
+
'''Counterparts that fit because of his friendship with Roy''' '''(Comedy Duo, Love/Hate friendship, other)'''
Hamton J. Pig (Tiny Toon Adventures)
Lenny Leonard, Carl Carlson, Barney Gumble or Milhouse Van Houten (The Simpsons)
Pumbaa or Timon (The Lion King)
Devon (Quest for Camelot)(Also funny in "Hogcules II", they were a two headed bird)
Prince Gumball (Adventure Time)
Counterparts (Girl Version) (Do not delete, but you can add)
Ad blocker interference detected!
Wikia is a free-to-use site that makes money from advertising. We have a modified experience for viewers using ad blockers

Wikia is not accessible if you've made further modifications. Remove the custom ad blocker rule(s) and the page will load as expected.