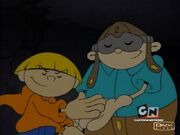 Nephelodeon's TV spoof of 'Phineas and Ferb'. I worked really hard on this, so please DO NOT EDIT!!!
Cast of Characters
Phineas and Ferb - Numbuhs 4 and 2 (Codename: Kids Next Door)
Perry the Platypus - Sonic the Hedgehog
Lawrence - Mr. Dink (Doug)
Linda - Lydia Pearson (Pepper Ann)
Candace - Pepper Ann Pearson (Pepper Ann)
Dr. Doofenshmirtz - Dr. Eggman (Sonic)
Norm - Proto Man (Mega Man)
Major Monogram - Mr. Incredible (The Incredibles)
Carl - Hiro Hamada (Big Hero 6)
Isabella - Numbuh 3 (Codename: Kids Next Door)
Buford - Ed (EEnE)
Baljeet - Dexter (Dexter's Laboratory)
Stacy - Nicky Little (Pepper Ann)
Jeremy - Doug Funnie (Doug)
Vanessa - Clover (Totally Spies!)
Jenny - Constance Goldman (Pepper Ann)
Django - Jonny 2x4 (EEnE)
Irving - Dennis the Menace
Albert - Chad Dickson (Codename: Kids Next Door)
The Fireside Girls - The Powerpuff Girls
Other secret agents - various cartoon animals
Roger - Wreck-It Ralph
Charlene - Sara (Sonic OVA)
Love Handel - Fred Jones (Scooby-Doo), Johnny Bravo, and Shaggy Rogers (Scooby-Doo)
Grandma and Grandpa Flynn - Eustace and Muriel Bagge (Courage the Cowardly Dog)
Grandpa and Grandma Fletcher - Wallace and Lady Trottington (Wallace & Gromit)
Thaddeus and Thor - King Sandy and Jerry Rassic (Codename: Kids Next Door)
Mandy - Trinket St. Blair (Pepper Ann)
Meap - Pac-Man
Mitch - Betrayus (Pac-Man and the Ghostly Adventures)
The Beak suit - Bumblebee (Transformers)
Khaka Peu Peu - Syndrome (The Incredibles)
Monty Monogram - Freakazoid
Paul - Mario
See also
Ad blocker interference detected!
Wikia is a free-to-use site that makes money from advertising. We have a modified experience for viewers using ad blockers

Wikia is not accessible if you've made further modifications. Remove the custom ad blocker rule(s) and the page will load as expected.