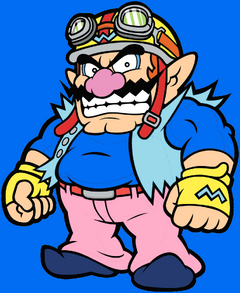 Wario Klattoce
is an Character of the 1997 Tajaha saga
WarioWare
. he is the Main Protagonist & President of Warioware, Inc. he is an Semi-Obese but Strong Man who is Owner & Leader of the WarioWare Team.
Bio
Gender: Male
Species: Human
Alignment: Good
Age: 42
Occupation: WarioWare Owner/Leader, Biker, Payday's Delivery Man, Master of Watutas of Power & Casino Owner
Personal Color: Dodger Blue
Girlfriend: Mona (Officially)
First Introduced: WarioWare 1 (1997).
WW: Portfolio Cartoon Debut: S01 E01A: A Great Day for Wario.
Clothing: Dodger Blue Shirt, Grayish-Cyan Ripped Jacket, Pink Pants suspended with a Belt, Yellow Fingerless Gloves with the W Symbol, Yellow Helmet with Goggles, Purplish-Blue Elf-Like Shoes.
Friends: Mona (Girlfriend), Orbulon, Penny, Ashley, Tony, Dribble, Spitz, Kat, Ana, Young Cricket, Jimmy. T (Best Friend), Jimmy. P, 9-Volt, 18-Volt, Dr. Crygor, Mike, Waluigi (Brother), Mini-Wario, Furze (Bruheth Friend) & others.
Rivals: Flush Numbat (Formerly), Dashy (briefly).
Enemies: Dr. Ventor (Arch-Nemesis), Black Jewel, Mecha-Wario (Evil Counterpart), Captain Syrup, Furze (formerly), Splunks, The Dinosaurs, Muncher the King, Poke Meat (Enemy Franchise), .
Enemies (WarioWare: Portfolio Cartoon): Deadrabbit, Virusis (Worst Enemy), Henlarsey, Clarky, Federico (formerly).
Trivia
Wario is Physically Based on a Super Mario Bros. Character with the Same Name
After WariowareWaves (An 2005 Game) was the Worst WareWare Game ever, Wario stopped being the StudiosWare Mascot and was Replaced by Other Character (Flush Numbat), from 2006, Wario is now the  Mascot of ActiVision.
Counterparts (WarioWare (T,J&H Productions)/WarioWare: Portfolio Cartoon Version) (Male Version) (Hero Version)
Thomas, Henry or Harvey (Thomas the Tank Engine and Friends/The Railway Series, Wario & Thomas are both Blue & Number 1 and Wario & Henry are both Strong)
Mario (Super Mario Bros., both have a "ario" Rhyme)
Sonic the Hedgehog (Sonic the Hedgehog, both are Blue)
Spongebob Squarepants (SpongeBob SquarePants, Both are Funny)
Furze (Furze Bandicoot, both are Blue & Funny)
Poke Meat or Headcrab (Super Poke Meat)
Buster Bunny (Tiny Toon Adventures, both are Blue)
Doki or Otto (Doki's Big Wonderland, All three appeared in Portfolio Entertaiment)
Boomer (The Powerpuff Girls, Both are Blue)
James (JamesWaves, both are Inc Presidents of WarioWare inc. & JamesWaves Corp.)
Yakko Warner (Animaniacs)
Puck Plugers (Puck Plugers)
Homer Simpson or Bart Simpson (The Simpsons)
Fix-it Felix Jr. or Wreck-it Ralph (Wreck-it Ralph, Wario & Felix are both Blue, Wario & Ralph are both Strong)
Gallery
Ad blocker interference detected!
Wikia is a free-to-use site that makes money from advertising. We have a modified experience for viewers using ad blockers

Wikia is not accessible if you've made further modifications. Remove the custom ad blocker rule(s) and the page will load as expected.