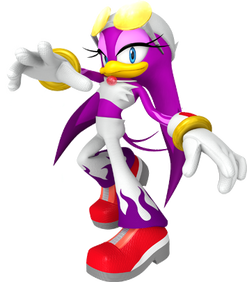 Wave the Swallow
is a character from
Sonic the Hedgehog
.
Counterparts
Elizabeth, Pinknose, Evil Emily, Daisy, Evil Rosie, The Stationmaster's Wife, Mallard, Evil Molly, Evil Mavis, Bristleback, Judge Judy the Diesel, Caroline, or Catherine (Thomas the Tank Engine and Friends)
Zodiac (TUGS, Fan-made)
Bernice Smoot (Shining Time Station, fan-made)
Rebecca (Theodore Tugboat)
Tempestra, Shreeka, Medusa, Karai (IDW Version), Viral, General Serpiente, Vam Mi, or Mrs. Campbell (Teenage Mutant Ninja Turtles)
Lillithmon/Laylamon (Digimon Xros Wars)
Wendy "Kootie Pie" O. Koopa or Princess Shroob (Super Mario Bros)
Rita Repulsa or Queen Machina (Power Rangers)
Archnemon (Digimon Adventure 02)
Courtney, Eva or Jo (Total Drama)
Drizella or Lady Tremaine (Cinderella)
Ursula or Morgana (The Little Mermaid)
Cruella DeVill (101 Dalmatians)
Poison Ivy or Nocturna (Batman)
Scream (Spider-Man)
Granny (Jimmy Neutron)
Vicky, Miss Doombringer, Spatula Woman, or Anti-Wanda (The Fairly Odd Parents)
Airachnid (Transformers Prime)
Yzma (The Emperor's New Groove)
Gnorga, Queen Of The Trolls (A Troll In Central Park)
Irna Spalko (Indiana Jones)
Juri Han (Street Fighter)
Shenzi, Vitani, or Zira (The Lion King)
Slipstream (Transformers Animated)
Piella Bakewell (Wallace and Gromit)
Grandma Stuffum or Cree Lincoln (Codename: Kids Next Door)
Begoniax, Razorwife, or Voodoo Mama (Rayman)
Madame Medusa (The Rescuers)
Mileena (Mortal Kombat)
Kumonga or Megagurius (Godzilla)
Bulleta/B.B. Hood (Darkstalkers)
Mad Madam Mim (The Sword in the Stone)
Witch Hazel (Looney Tunes)
DuBois (Madagascar)
Dutchess (Foster's Home For Imaginary Friends)
Miss Trunchbull (Matilda)
Ms. Twit (The Twits)
Ms. Tweedy (Chicken Run)
Ms. Stout (The Search For Santa Paws)
Sprocket (Skylanders)
Gotcha Grabmore, Rhubella Rat, or the Adults Against Funny Cartoons Chairperson (Tiny Toon Adventures)
Candlehead (Wreck-It Ralph)
Tina (Neighbor) (Angry Grandpa)
Aunt Figg (Tom and Jerry)
Evil-Lyn (He Man and the Masters of the Universe)
Karen (Good Luck Charlie)
Suzy Johnson or Professor Poofenplotz (Phineas and Ferb)
Antagony (Beast Wars: Transformers)
Thunder (Clayfighter)
Counterparts (Boy version)
Dr. Robotnik or Zavok (Sonic the Hedgehog)
Diesel, George the Steamroller, Diesel 10, The Spiteful Breakvan, Bulgy or Eric (Thomas and Friends)
Zorran (TUGS)
Nightmare (Kirby)
Discord (My Little Pony Friendship Is Magic)
Shredder (Teenage Mutant Ninja Turtles)
Megatron or Starscream (Transformers)
Ludwig "Kooky" Von Koopa or Bowser (Super Mario Bros)
Huxley or Oscar the Grouch (Sesame Street)
Oliver (Theodore Rugboat)
Admiral Razorbeard, Darkman (Dark/Bad Rayman), Mr. Dark, or Andre the Black Lum (Rayman)
Devimon (Digimon)
Seto Kaiba or Maximillain Pegasus (Yu-Gi-Oh)
Tao Pai Pai, Emperor Pilaf, Frieza, Vegeta, or the Ox King (Dragon Ball Z)
Gaara or Orochimaru (Naruto)
The Cyberdemon (DOOM)
M. Bison (Street Fighter)
Geese Howard (Fatal Fury)
Demitri, Pyron, or Lord Raptor (Darkstalkers)
Lex Luthor (Superman)
The Joker or The Penguin (Batman)
Ronno (Bambi)
Lampwick (Pinnochio)
Severus Snape (Harry Potter)
Carface (All Dogs Go To Heaven)
Godzilla or King Ghidora (Godzilla)
Plankton (SpongeBob SquarePants)
Allen Gregory (Allen Gregory)
Horrid Henry (Horrid Henry)
Dick Dastardly (Wacky Races)
Uncle Dolan (Dolan)
Sigma (Mega Man X)
Parodies
Add more please
Ad blocker interference detected!
Wikia is a free-to-use site that makes money from advertising. We have a modified experience for viewers using ad blockers

Wikia is not accessible if you've made further modifications. Remove the custom ad blocker rule(s) and the page will load as expected.