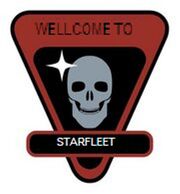 "Welcome to Starfleet!" someone greats you at the docking bay of the Starfleet Station. They hand you your combadge and rank insignia pin. "Please fleel free to brouse around the open parts of the station."
If you are already sighend on please report to your ship,

USS ELIZABETH
USS CONQUEROR
USS BUG
USS VOYAGER III
USS ENTERPRISE-J
USS PHANTOM
USS HYBRID
USS FORD
USS PREYING MANTIS
USS BETEL
USS ROACH
USS BUTTERFLY
USS WORM
USS TIC
USS EXTERMINATOR
USS COLOMBIA-4
Ad blocker interference detected!
Wikia is a free-to-use site that makes money from advertising. We have a modified experience for viewers using ad blockers

Wikia is not accessible if you've made further modifications. Remove the custom ad blocker rule(s) and the page will load as expected.