Wendolene Ramsbottom is Wallace's First Love Interest in Wallace and Gromit In A Close Shave.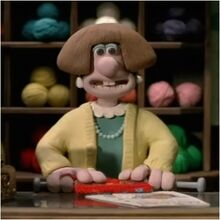 Counterparts
Mavis (Thomas and Friends)
Sally Seaplane (TUGS)
Princess Daisy (Super Mario Bros)
Dulcy The Dragon (Sonic The Hedgehog)
May (Pokemon)
Rita (Animaniacs)
Susie Carmichael (Rugrats)
Hela Nemo (Cubix: Robots For Everyone)
Bebe Stevens (South Park)
Candace Flynn (Phineas and Ferb)
Lupe (Fanboy and Chum Chum)
Numbuh 5 (Codename: Kids Next Door)
Dinah Doll (Noddy's Toyland Adventures)
Gallery
Ad blocker interference detected!
Wikia is a free-to-use site that makes money from advertising. We have a modified experience for viewers using ad blockers

Wikia is not accessible if you've made further modifications. Remove the custom ad blocker rule(s) and the page will load as expected.