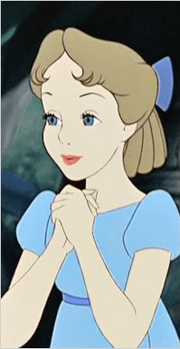 Wendy Darling
is a character from the 1953 Disney film,
Peter Pan
.
Counterparts
Twilight Sparkle, Princess Cadance, Fluttershy, Rarity, Rainbow Dash or Applejack (My Little Pony: Friendship is Magic)
Wendy Testaburger (South Park)
Coco Bandicoot (Crash Bandicoot)
Yo (Fanboy & Chum Chum)
Numbuh 362 (Codename: Kids Next Door)
Tessie Bear (Noddy's Toyland Adventures)
Gwen, Bridgette, Zoey or Ella (Total Drama)
Emma (Total Drama Presents: The Ridonculous Race)
Gallery
Ad blocker interference detected!
Wikia is a free-to-use site that makes money from advertising. We have a modified experience for viewers using ad blockers

Wikia is not accessible if you've made further modifications. Remove the custom ad blocker rule(s) and the page will load as expected.