Ad blocker interference detected!
Wikia is a free-to-use site that makes money from advertising. We have a modified experience for viewers using ad blockers

Wikia is not accessible if you've made further modifications. Remove the custom ad blocker rule(s) and the page will load as expected.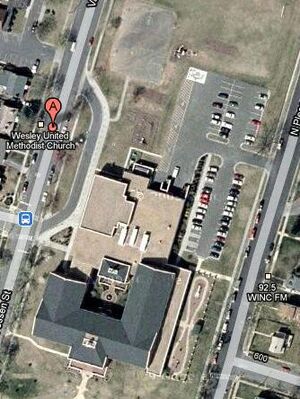 [This is a page created for my Scion game, and while it may resemble real information, much of it has been altered and made fiction.]]
Wesley United Methodist Church
527 Van Fossen Street Wod Winchester, Virginia 22601
Phone: (540) 555-7577
Sunday Worship: 8:45 am & 11:00 am
Sunday School: 9:45 am
Rev. Mike Miller, Pastor
wesleyunited@verizon.net
About us
Wesley United Methodist Church was established in 1962. We offer Christ centered worship, that features a blending of contempory and traditional music, Biblical Preaching inspired by the Holy Spirit, and loving fellowship. We also offer Sunday School for all ages, an adult choir, and weekdayBible study. We offer two United Methodist Women's Circles and a United Methodist Men's Group.
Our facilities are also available for other functions, such as weddings, receptions,etc.
For more information please call our Church office Monday-Friday,9:00 am-1:00 pm; or email us: www.wesleyunited@verizon.net