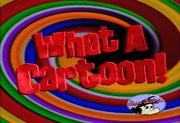 What A Cartoon! (later known as The What A Cartoon! Show and The Cartoon Cartoon Show) is an American animation showcase series created by Fred Seibert for Hanna-Barbera Cartoons which aired on Cartoon Network. The project consisted of 82 short cartoons, intended to return creative power to animators and artists, by recreating the atmospheres that spawned the iconic cartoon characters of the mid-20th century. Each of the shorts mirrored the structure of a theatrical cartoon, with each film being based on an original storyboard drawn and written by its artist or creator.
The series first aired on February 20, 1995, and the shorts were promoted as World Premiere Toons. During the original run of the shorts, the series was retitled to The What a Cartoon! Show and later to The Cartoon Cartoon Show until the final short aired on August 23, 2002. The project served as the launching point for multiple Cartoon Network series, including The Powerpuff Girls, Dexter's Laboratory, Johnny Bravo, Cow and Chicken, Courage the Cowardly Dog, Mike, Lu & Og, Sheep in the Big City, Whatever Happened to... Robot Jones?, Codename: Kids Next Door, The Grim Adventures of Billy and Mandy and Megas XLR, as well as Fox's Family Guy.
The series is influential for birthing a slew of original Cartoon Network hits and helping to revive television animation in the 1990s. Once it had several original shorts, those became the first Cartoon Cartoons (a collective term for retro Cartoon Network original series). In its final years, The Cartoon Cartoon Show became a block for reruns of older Cartoon Cartoons that had been phased out by the network.
Parodies (don't delete, but you can add some more)
Ad blocker interference detected!
Wikia is a free-to-use site that makes money from advertising. We have a modified experience for viewers using ad blockers

Wikia is not accessible if you've made further modifications. Remove the custom ad blocker rule(s) and the page will load as expected.