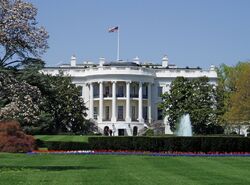 The White House is a government building in the city of Washington, DC, in the former nation-state United States of America on Earth. It was the usual home of the American President. The President of the Earth Federation was seated in the white house. From 2550 to 2554, the White House was where several trade negotiations with the Vaskans took place. On January 7th 2554, the White House was raided by the Kyrians led by Tedran.
Ad blocker interference detected!
Wikia is a free-to-use site that makes money from advertising. We have a modified experience for viewers using ad blockers

Wikia is not accessible if you've made further modifications. Remove the custom ad blocker rule(s) and the page will load as expected.