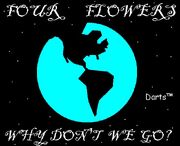 Este Cd fue el que lanzo a la fama a four flowers, debido a sus grandes canciones, buenas letras y uso mayor del piano, ademas del abandono de la bateria escandalosa. Lo cual llevo al grupo a desviarse del rock y llevarse al funk por delante.
Su segundo trabajo es "Why don't we go", un álbum en su mayoría, gracioso, con los primeros temas dedicados al papa Juan Pablo II tras su muerte. Empieza con "Rock DJ" que invita a las famosas fiestas playeras desatadas tales como las de Playa Unión y Puerto Madryn, con Matías al teclado y Danilo y Nacho haciendo beat box y voces del estilo. La segunda canción "Why don't we go" tiene la historia mas larga de todas las canciones (junto a "Los piojos"): La primera aparición de este tema se escucha recién por primera vez en dos demos grabados antes de "Rock show" que aparecen en "Los tres", uno con la letra cambiada y la aparición del estribillo "a veces te digo que no o que si..."; y la segunda ya un poco mas elaborada aunque con un Danilo medio "desanimado" cantándola y un Marcos en la batería, lo que era mas extraño todavía. La segunda aparición es en "Rock show" donde Danilo recuerda "creo que fue una gran versión de esta canción". Luego volvería a aparecer con Marcos cantando también en "The FF mixed", convirtiéndose en la canción con mas versiones de Four Flowers. Además es indudablemente el mayor éxito de FF por la alegría, por la música y por la letra. Según Danilo "la letra habla de una chica que nunca conocí, que vi junto a Lucas Olivera (hermano de Marcos Olivera Medel) que estaba sentada en un caballo de la calesita" (o carrusel como dice la canción) y la cual los dejo perplejos y enamorados al toque. Aunque también Danilo aclara que el "why don't we go" que significa "porque no vamos?" también tiene cierto que ver con esa chica, pero que se pensó mas inspirado en una canción del grupo ingles Keane que en "Somewhere only we know" mencionan la frase "And if you have a minute why don't we go". El resto de las canciones del álbum son a capella y casi sin sentido musical exceptuando "Margaritas de papel", el segundo single del álbum que posee una gran letra y toca realmente el lado sensible de la banda aunque también se filtran un par de graciosidades. Canciones con distintas inspiraciones, como una historia de Alejo y Valentina en "Doom loco" o "Me echaron" y su mensaje de anarquía. Luego "La selección" con sonidos del glorioso FIFA 2005 y "Marciano", canción del grupo mexicano Molotov. Mas adelante están "Feel good" inspirada en una canción de Gorillaz y "Robot (crazy) rock" en una de Daft Punk.
Track listing
"Rock DJ" – 3:03
"Why don't we go (Song)" – 3:53
"Doom loco" – 6:23
"Me echaron" – 4:40
"La selección" – 4:27
"Marciano" – 6:23
"Feel good" – 3:40
"Robot (crazy) rock" – 3:47
"Margaritas de papel" – 5:11
"Tortura" – 6:44
"Algo que cambiar" – 5:39
Personnel
Singles
Ad blocker interference detected!
Wikia is a free-to-use site that makes money from advertising. We have a modified experience for viewers using ad blockers

Wikia is not accessible if you've made further modifications. Remove the custom ad blocker rule(s) and the page will load as expected.