Translation : Velodrome in Mechelen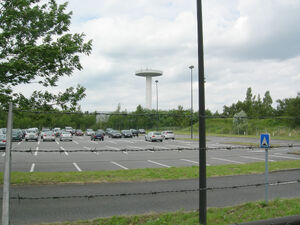 Walem, bij Mechelen, bezat ooit een wielerpiste. Het was onder de impuls van de familie Schroeven, waaronder Armand en Theophiel, dat men een velodroom met assepiste bouwde (Officiële openingsmeeting gebeurde in 1908). Naast het fietsen, zowel door jongeren als door professionelen, waren er – in het begin – ook loop-, worstel-en bokswedstrijden.
Het was Theofiel Schroeven, die vlakbij de piste ook nog eens een café uitbaatte.
Geschiedenis
De wielerbaan, die zeker niet de grootste was, lag vlak bij het Fort van Walem (en de watertoren in industriezone Mechelen-Noord) en kwam, van 1934 tot na de Tweede Wereldoorlog, onder het bestuur van Theophiel Schroeven.
In het aanvangsjaar 1908 werden er zes wedstrijden georganiseerd. Niet enkel voor de profs, maar ook voor de jeugd organiseerde Theophiel Verhoeven wedstrijden. Door de veelzijdigheid aan activiteiten en de lage startgelden die opgehoest moesten worden overleefde de wielerbaan van Walem andere wielerpistes in de omgeving. Geregeld werd er ook een jaartje overgeslagen om de wielerbaan terug op te knappen, dit in tegenstelling tot anderen die ten onder gingen door gebrek aan onderhoud. Ook werden er fietswedstrijden voor vrouwen gehouden (aanvang 1909).
Tijdens het openingsjaar werden volgende disciplines beoefend : Achtervolging – Puntenkoers – Ploegkoers – 60 kilometer op eigen kracht.
Tijdens de Eerste Wereldoorlog werd de wielerpiste afgebroken en het was pas in 1924 dat er een nieuwe velodroom werd gebouwd, dit maal aan de overkant van het Walemse Fort, met een betonnen baan. [1]
De laatste wedstrijden werden gereden eind jaren '60 van de Twintigste Eeuw en de put met wielerbaan werd gedempt. Ook werd er, in 1966, door de Belgische Overheid het verbod bij wet opgelegd om nog langer jeugdwedstrijden te organiseren.
Namen
Hieronder enkele namen die wedstrijden hebben gereden op de wielerbaan van Walem
Andere wielerpistes
Tussen 1908 en 1924 lag er ook een wielerpiste aan de terreinen van KV Mechelen aan de Liersesteenweg. Aan deze wielerpiste, die eigenlijk te klein was en steile bochten had, kwam een eind omdat er moeilijkheden opdaagden met Francis Dessain, voorzitter van KV Mechelen, die zijn terreinen wilden uitbreiden en moderniseren. Tot 1924 hielden, op deze kleine piste, beroepsrenners hun meetings.
Wielerpistes in de (wijde) omgeving van Mechelen - heden ten dage
Wielerbaan "Den Reggel" – Driesstraat – Zemst/Elewijt (377 meter)
Wielerpiste "Ter Beke" – Moerelei – Antwerpen/Wilrijk (333 meter)
Extra
In het provinciearchief van de provincie Antwerpen is er nog steeds een omslag te vinden naar de Walemse wielerpiste onder te titel "Wielerkoersen wielerbaan Walem 1968". [5]
Externe links
Voetnoten
Ad blocker interference detected!
Wikia is a free-to-use site that makes money from advertising. We have a modified experience for viewers using ad blockers

Wikia is not accessible if you've made further modifications. Remove the custom ad blocker rule(s) and the page will load as expected.