The Wiki Assessing Corporation was started on 16th March, 2000 by Sean Reedy and Rory Giles. The WAC assesses five aspects of a wiki, and marks it our of 5. These aspects are:
Useful and appropriate information

Organisation, spelling and grammar

Regular and varied edits

Attitude towards spam

Number of pages

The WAC will award a minimum of one star to any wiki, regardless of its content. The maximum five stars will be awarded if the above five things are achieved, and the members of The WAC all agree that the wiki in question has been treated well, and has served its purpose extremely well.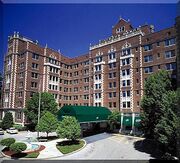 The headquarters of the Wiki Assessing Corporation are situated in London, England. The bottom floor of the building is the reception, while on the top floor is the meeting rooms and higher level employee offices. All the floors in the middle are offices, break rooms, canteens, toilets or meeting rooms.
To join the WAC, you must first complete the Wiki Assessment Test, and be interviewed by one of the two founders of the WAC. If you pass both the test and the interview, you will be put on the Trainee Wiki Assessment Team, and will be able to evaluate level 1 & 2 wikis to see if they have been upgraded to deserve another star.
Ad blocker interference detected!
Wikia is a free-to-use site that makes money from advertising. We have a modified experience for viewers using ad blockers

Wikia is not accessible if you've made further modifications. Remove the custom ad blocker rule(s) and the page will load as expected.