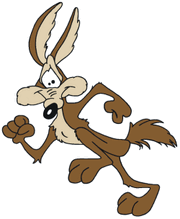 Wile E. Coyote is an animated cartoon character, created by Chuck Jones for Warner Bros. Looney Tunes series. His debut was in Looney Tunes animated cartoon "Fast and Furry-ous" along with Road Runner.
In Tiny Toon Adventures, he is the mentor and favorite teacher of Calamity Coyote.
Counterparts (Tiny Toon Adventures Version)
Counterparts (Looney Tunes Version) (Do not delete, but you can add)
Justin or Noah (Total Drama)
Junkie (Fat Pizza)
Gen-An (Samurai Shodown)
Sol (3-2-1 Penguins)
Timon(The Lion King)
Wolf(Nu Pogodi)
Zig(Zig and Sharko)
Sebastian The Fox(Meet The Feebles)
Gallery
Ad blocker interference detected!
Wikia is a free-to-use site that makes money from advertising. We have a modified experience for viewers using ad blockers

Wikia is not accessible if you've made further modifications. Remove the custom ad blocker rule(s) and the page will load as expected.