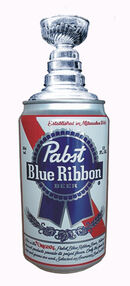 Formerly the Pittsburgh Popsicles

In the latter years as the Pittsburgh Popsicles, the team experienced severe financial problems. A deficit causing enourmous cutbacks in payroll. With 3 top end salary players in their roster and insufficient attendance and low merchandise sales (some blame Pittsburgh's eyesoring pink and baby blue jersey) they had to make a move or die. Which they did, their star blue-liner Bob Sickles signed as free agent to the Kansas City Sunriders and puck stopper Larry Cooper traded to the Honolulu Harlequins for then young finnish goalie Arto Pekkari. It gave them a chance to keep star player Bernard Brown in the lineup. But it wasn't enough, after 2 mediocre seasons with no playoff participation the team hit rock bottom and was then sold to become the Winnipeg Blades.

The Winnipeg Blades surprised hockey analysts all over the league and won the season 12 Pabst Cup in the first season they moved to Winnipeg. Defeating the fearsome Chicago Demons in the cup finals caused major riots in Pittsburgh, Chicago and Winnipeg (it is believed that the damage in Winnipeg was caused by the frustrated and quite violent Chicago team).
Winnipeg Blades Notable Players
Winnipeg Blades Past Notable Players
Bob Sickles (Pittsburgh Popsicles) Now with Reykjavik Íslendingur
Larry Cooper (Pittsburgh Popsicles) Traded to the Honolulu Harlequins
Winnipeg Blades Uniform