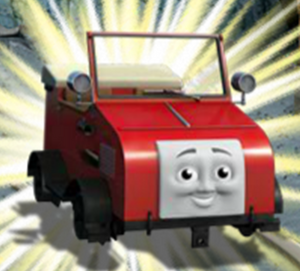 Winston
is a red track inspection convertible car.
Allies: Thomas, Edward, Henry, Gordon, James, Percy, Toby, Emily, Daisy, BoCo, Bear, Mavis, Stanley, Stafford, Charlie, Hiro, Paxton, Porter, Connor, Caitlin, Millie, Stephen, Whiff, Scruff, Belle, Flynn
Rivals: Duck, Donald, Douglas, Oliver, Bill, Ben, Harvey
Enemies: Diesel, Arry, Bert, Diesel 10, Spencer, Den, Dart, Norman, Sidney
Date of Birth
Appearances
Season 16
Season 17
Wayward Winston
Santa's Little Engine
Cameos
Season 17
Calm Down Caitlin
The Lost Puff
The Thomas Way
Percy's Lucky Day
Bill or Ben?
Specials
Voice Actor
Merchandising
Wooden Railway
Take-n-Play
Trackmaster (coming soon)
Theme
Winston's theme is the Blue Mountain Quarry song or the Roll Along Song "Blue Mountain Mystery", which he shares with Luke, Merrick, and Owen.
Counterparts
Swifty (Elias the Little Rescue Boat)
Thomas the Tank Engine (Doki)
Splasher (Bob the Builder)
Little dude a.k.a Finn's hat alive (Adventure Time)
Chocola or Caliburn (Sonic the Hedgehog)
Rip Tide (Skylanders)
Parodies
Gallery