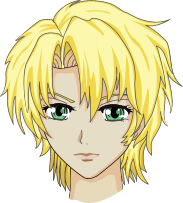 Spoilers: Skip the Basics summary and go straight to the story sections if you want to bypass spoilers. A story section says what more you know about Wolfram by the end of that story.
Basics
AKA: "Wolfie" (his mother), "Pretty Vixen" (his father).
Age: 83
Looks: 5'5 1/2" short, enormous gorgeous green eyes, satin clear skin, rumpled cow-licked blond hair.
Character: Smart, cynical, politically crafty. Passionate, fiery, moody, loyal. Loves kids, kind but firm at discipline.
Special skills: Very powerful fire healer maryoku. Excellent swordsman. Command experience. Political experience and savvy.
Special skills (Trolls): Is male but can also produce seeds. Healing gift is specially slanted to animals. Can talk to dragons.
Family: Son of Cecilie von Spitzweg and Manfred von Bielenfeld, out of wedlock, though they did marry when he was 87.
Wolfram has only half-siblings. On his mother's side, Gwendal von Walde and Conrad Weller. On his father's side, in order by age, Kieran von Donaghie, Efram, Bertram, (and after GoT) Avram, and Margritte von Bielenfeld. Wolfram adopted Bertram as his son. Dietrich von Bielenfeld is Wolfram's step-brother.
Wolfram married Yuuri Shibuya when he was 90, after an extraordinary series of wedding false starts. By then they were raising three children together. Though each child has a different, single, official parent, Wolfram is the main caregiver for: Greta Shibuya (Yuuri's adopted daughter), Frieda von Gratz (Adelbert's daughter, fostered to Wolfram), and Bertram. Much of the time Efram is also visiting. (GoT) The families plan to cross-foster Bertram and Avram.
Stories: All - I wouldn't write a KKM story without the pretty vixen. :)
The Bedding of Wolfram
Wolfram's troop is hijacked in Mizrat.
He and two of his men are taken and gang-raped.
Only two of his troop survive - his first lover Axel is among the dead.
Wolfram is a mess - physically and emotionally.
His father Manfred comes to help him recover.
Yuuri realizes he loves Wolfram after all, and sets out to win him back from his personal hell.
They finally get together physically as a couple. Yuuri's staying.
Epilogue
6 years later
Our cast reminisces about 6 years' worth of Wolfram's disastrous failed weddings.
They add one more wedding disaster, but this time manage to get married - at last!
But what happened in the intervening 6 years, with these colorful failed weddings? Well...
Axel
During BoW, and 20 years before
Axel is two stories - the frame story is Wolfram's hard work with Manfred and Yuuri, trying to recover from his gang-rape in Mizrat. To do that, he has to come to terms with the deaths of his troop and what that meant to him. He looks back twenty years to when his troop was formed.
Conrad's gone to Earth, so Wolfram picks up Axel and his buddies at sword practice.
This is an orphaned troop of Bielenfeld majutsu cavalry trainees - no officers survived.
Wolfram starts officially training the troop in swordsmanship and majutsu.
Casual friendship turns into lovers with Axel.
Wolfram decides to become an officer.
He goes to Bielenfeld to get a new commander and mentor - Gregor von Dienst.
Axel is likewise promoted to sergeant under von Dienst's sidekick Sergeant Griesel.
Wolfram and Axel break up - it's inappropriate for an officer to be in bed with his sergeant.
Wolfram becomes an ice princess, no more lovers, until Yuuri shows up.
And back to the present.
Wolfram comes to terms with the death of his troop and Axel.
Wolfram and Yuuri finally go all the way as lovers.
Manfred declares Wolfram recovered enough, and leaves.
Wolfram stumbles onto the idea of childrearing to replace his lost military career.
The Pirate Wedding
Two years after BoW and Axel
Wolfram plans a huge gala wedding. We meet more von Bielenfelds.
Yuuri invites all the Aristocrats and human allies.
Wolfram has become Yuuri's political advisor.
The mothers of the grooms are kidnapped by pirates.
During the rescue, Wolfram is killed. Yuuri revives him.
Manfred takes over Bielenfeld, so Wolfram is heir to a domain.
The wedding is cancelled. All future wedding dresses are vetoed.
Wolfram's parents decide to get married (for the first time).
Wolfram wants to adopt another child. By the end he's raising four -
Bertram is the reincarnation of Shinou - Wolfram chooses not to notice.
Bananam00n's wedding dress series of illustrations:
Schickeldooger's illustration:
Wolfram Takes a Break
One year later - three years after BoW and Axel
Manfred and Cecilie's wedding cruise in the Khrennikov Fire Islands.
Being 'Mom' to needy babies and irresponsible adolescents, is getting old.
Wolfram dumps the kids on Yuuri and swims off alone to explore.
He finds a phoenix about to do its 500-year pyre.
The family eventually finds and joins him.
The phoenix asks each for a grief to redeem - Wolfram's is that Yuuri will age and die so soon.
Manfred's lame leg is soon miraculously healing.
Manfred's year is up, ruling Bielenfeld. He offers it to Wolfram.
Wolfram turns it down. He also turns down Aldrich's offer to make Wolfram his heir.
Non-canon ending
The last chapter is not canon for the story arc - I'm not writing toward this future for Yuuri and Wolfram, the way I did with Epilogue.
Wolfram stays young, and takes lovers as Yuuri loses vitality.
Yuuri ages quickly and badly, and dies decrepit around age 60.
The phoenix revives Yuuri, as an 18-year-old again.
This aging-die-reset-to-18 cycle happens once again.
The third time Yuuri dies, he and Wolfram die together, to be reborn together as lovers. No more grief for the phoenix to redeem.
Bertram becomes the next Maou.
Yuuri's Hot Date
two years after WTB, fifth year after BoW
Wolfram breaks up with Yuuri for a couple weeks - he should date a girl and find out.
Wolfram partakes at the late night gay bath scene...
Yuuri is furious. He will date a girl, dammit! He does - twice.
Wolfram lost his mind like this because Aldrich is holding a marriage ball for Wolfram's secret half sister, Kieran von Donaghie - who looks just like Wolfram.
Wolfram and Yuuri dance with Kieran at the ball. Yuuri is smitten.
Kieran wants to see them both privately.
Manfred intercepts Kieran and explains he's her bio father - marrying Wolfram is impossible. But they have a private family picnic with her brothers.
Yuuri's date with Kieran is a lame plot by Kieran and Greta to get her fathers back together.
In a double-slap at a fancy-dress nightclub, Yuuri and Wolfram's engagement is back on.
Kieran is betrothed to Sylvain von Tarkenburg, the new Lord Donaghie.
Wolfram and Yuuri receive marriage counseling from Friedrich, Manfred, and Aldrich.
We see more glimpses of Wolfram's childhood - Aldrich and Manfred's loving relationship was an oasis to him, compared to his mother's revolving bedroom door, of boyfriends and kinky sex.
The Trouble with Trolls
half year after Date, sixth year after BoW
This story opens a whole new ballgame in the story arc. There are other Mazoku races in Shin Makoku - demons are just the most powerful. That's because Shinou killed most of the others - accidentally. The last great war on this subject, against Troll Mother, ended in a draw. It's time for round two.
Most high-power demons (Aristocrats) have non-demon blood. This is news to Yuuri!
Aldrich dispatches Wolfram to 'hide the heirs'. This fails - all the heirs get captured.
They meet up with the wood nymphs Tariel and Garena. Garena is Manfred's real father - Wolfred von Bielenfeld was his mother - Manfred was grown from seed.
Tariel is mother to Garena, Friedrich, and Emeraude von Bielenfeld - from whom many von Spitzwegs and von Wincotts are descended. And Wolfram, several times over.
Wolfram's parents split. Manfred marries Aldrich. Cecilie is looking for a new career.
Wolfram and Aldrich can produce seeds. Most turn into trees.
After the strong magic of a troll midsummer dance, Wolfram and Yuuri have one seed able to grow into a demon baby - their joint biological child. Aldrich will plant this, and two of his and Manfred's seeds, next spring. Aldrich has the needed green thumb maryoku to draw a demon baby out of a sapling.
Wolfram's fire healer maryoku is also a special variant - he's good at animals. He can communicate with more Mazoku races than most. He learns to talk to dragons.
Family of Tree - Tariel and Theophilus von Bielenfeld's family tree (including Wolfram)
Ad blocker interference detected!
Wikia is a free-to-use site that makes money from advertising. We have a modified experience for viewers using ad blockers

Wikia is not accessible if you've made further modifications. Remove the custom ad blocker rule(s) and the page will load as expected.