Ad blocker interference detected!
Wikia is a free-to-use site that makes money from advertising. We have a modified experience for viewers using ad blockers

Wikia is not accessible if you've made further modifications. Remove the custom ad blocker rule(s) and the page will load as expected.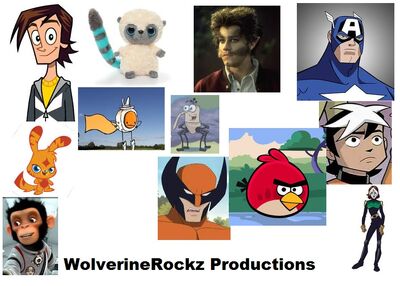 WolverineRockz
LIST OF MOVIES/VIDEO GAMES/TV SHOWS SO FAR:
Alienators: Evolution Continues
Aladdin
Aladdin 2: The Return of Jafar
Aladdin 3: Aladdin and the King of Thieves
Alice in Wonderland
Aliens in the Attic
Angry Birds
Archie's Weird Mysteries
Arthur Christmas
Alvin and the Chipmunks (TV Series)
Atom Ant
Bee Movie
Ben 10
Ben 10 Ultimate Alien
Big Wolf on Campus
Dinosaur
Dinosaur King
Doctor Snuggles
Generator Rex
Hamtaro
Hey There, It's Yogi Bear!
Hokey Wolf
Home on the Range
Hop
Hotel Transylvania
Huckleberry Hound
Ice Age
Ice Age 2
Ice Age 3
Igor
Iron Man
John Carter (2012)
Johnny Test
Kick Buttowski: Suburban Daredevil
Kung Fu Panda
Kung Fu Panda 2
Lilo & Stitch
Looney Tunes
Madagascar
Madagascar: Espace 2 Africa
Martin Mystery
Meet The Robinsons
Monsters Vs Aliens
Mulan
Mummies Alive!
Mucha Lucha
Open Season
Open Season 2
Open Season 3
Oscar's Oasis
Osmosis Jones
Ozzy and Drix
Pet Alien
Phineas and Ferb
Pixie and Dixie
Planet 51
Planet Hulk
Pokemon
Prince of Persia: The Sands of Time (2010)
Pucca
Silver Surfer
Skunk Fu
Sonic the Hedgehog
Sonic the Hedgehog (1993 Animated Series)
Soinc X
Sonic Underground
Snow White and the Seven Dwarfs
Spider-Man and His Amazing Friends
Spider-Man: The Animated Series
Spider-Man Unlimited
SpongeBob SquarePants
Teen Titans
The Addams Family (1964)
The Addams Family (1973)
The Addams Family (1992)
The Adventures of Sonic the Hedgehog
The Amazing World of Gumball
The Ant and the Aardvark
The Aristocats
The Avengers: United They Stand
The Avengers: Earth's Mightiest Heroes
The Batman
The Big Knights
The Black Cauldron
The Croods
The Invincible Iron Man
The Looney Tunes Show
The New Addams Family
The Penguins of Madagascar
The Quick Draw McGraw Show
The Secret Saturdays
The Simpsons
The Smurfs (2011)
The Super Hero Squad Show
The Sword in the Stone
The Water Horse: Legend of the Deep
Top Cat
Total Drama Series
Thor: Tales of Asgard
Toy Story
Toy Story 2
Toy Story 3
Ultimate Avengers 2
Up (2009)
WALL-E
Wally Gator
X-Men Origins: Wolverine
Yam Roll
Yogi Bear
Yogi Bear (2011)
A LIST OF PARODIES
MY FAVORITE CHARACTERS:
Wolverine and Rogue (X-Men Evolution) (Wolverine's Girlfriend)
Beast Boy (Teen Titans)
Yogi Bear
Boo Boo Bear
Ben Tennyson (Ben 10 Alien Force)
Captain America and Thor (The Avengers: Earth's Mightiest Heroes)
Lurch (The Addams Family)
Koda (Brother Bear)
Mr. Bumpy (Bump in The Night)
Dinko (Pet Alien)
Talis The Fox
Ham III and Luna (Space Chimps)
Tommy Dawkins (Big Wolf on Campus)
Grug (The Croods)
Lem (Planet 51)
John Carter
Po The Panda (Kung Fu Panda)
Skunk (Skunk Fu)
Spidermonkey (Ben 10 Alien Force and Ultimate Alien) (Wolverine's Pet)