Jimmyandfriends's videogame spoof of "Jonah: A VeggieTales Game"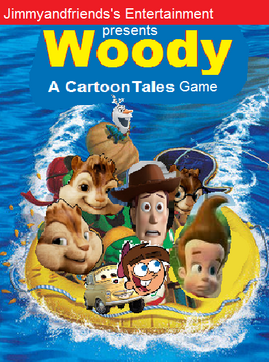 Cast:
Woody (Toy Story) as Archibald Asparagus as Twippo and Jonah
Alvin Seville (Alvin and the Chipmunks) as Larry the Cucumber as Pirate Larry
Theodore Seville (Alvin and the Chipmunks) as Mr. Lunt as Pirate Lunt
Simon Seville (Alvin and the Chipmunks) as Pa Grape as Captain Pa and Narrator
Olaf (Frozen) as Khalil
Levels
Special Delivery - Help Woody and Eeyore deliver messages to the people of Joppa!
Crunch Time - Time to load up the ship, but the Chipmunks are too lazy! (maybe some cheese curls will keep them going)
A Bumpy Ride - Woody and the Chipmunks set out for Tarshish, but first, they have to get out of Joppa Harbor!
Chipmunks' Plank - The Chipmunks want to walk the plank and have some fun!
Thar She Blows! - The whale has a hold of the ship, and he won't let go!
Drop the Ball - The whale has swallowed the bowling ball - with Olaf inside! He needs to roll down to reach Woody
Second Chance Dance - These angels want to sing and dance, and tell Woody he's getting a second chance!
Desert Dodge - Woody has to cross the desert, but some critters are in the way! (Good thing Eeyore and Olaf are there to help)
Crazy Caves - This canyon near Nineveh is twisty and dark, don't let Woody's torch burn out!
Cliff Side - A steep cliff is all that stands between Woody and Nineveh, and it's a dangerous slide!
Flying Fish - Woody must deliver his message to Nineveh, but first he has to get past all the flying fish (without getting too stinky!)
A Message from the Lord - God wants to give Nineveh a second chance, so Woody must get to the top to deliver God's message!
Ad blocker interference detected!
Wikia is a free-to-use site that makes money from advertising. We have a modified experience for viewers using ad blockers

Wikia is not accessible if you've made further modifications. Remove the custom ad blocker rule(s) and the page will load as expected.